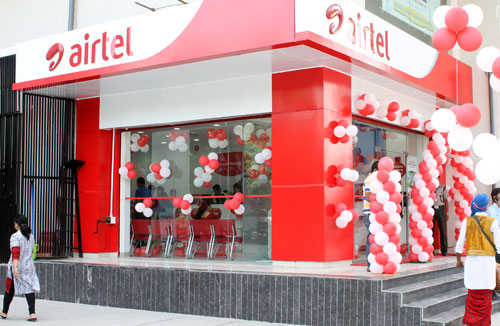 Airtel Gifts SLAJ Half Million Dollar as Birthday Gift
The world's third largest mobile telephony network Airtel, last Friday presented a five hundred thousand United States dollars, five years partnership package to the Sierra Leone Association of Journalists (SLAJ) as their 44th birthday gift.
The soft-spoken Managing Director Sudipto Chowdury unveiled the package during lunch on Friday 5th June 2015 at the Holy Trinity Parish Hall where nearly 300 SLAJ members were attending the association's Annual General Meeting.
In his short presentation titled "Driving Excellence in Journalism" SLAJ & Airtel Partnership, the Airtel MD said the Mobile Phone Company will from 6th June 2016 partner with SLAJ to do the media awards which will now be named SLAJ/Airtel Media Awards.
He quoted Tom Stoppard who said "I still believe that if your aim is to change the world, journalism is a more immediate short term weapon."
MD Chowdury explained that the partnership will be built on three pillars. These he said will be recognition of long term contribution, recognition of contemporary contribution, and support capabilities building.
The first will be a Life-time achievement award where one individual every year will be awarded for exceptional individual contribution to journalism. For this the awardee will receive a dedicated plaque and a citation.
This will be followed by the special appreciation award which will be for exceptional institutional contribution to journalism.
This also goes with a citation and a plaque.
Under recognizing contemporary contribution will be the institutional awards for best newspaper, best radio and best TV. This award carries a trophy and ten million Leones.
The second part of this is the individual achievement award of which there are ten categories of individual recognition which will soon be made public and which go with a trophy and two million five hundred thousand leones.
Under the building capacity pillar there will be a five thousand dollar one off grant and a return air ticket for three journalism students who have secured places and entrance to universities or schools of journalism abroad.
The second part of this pillar will be a five thousand dollar one off grant to one doctoral student of journalism, every year for five years.
In terms of building relationships Sudipto unveiled a brilliant new package to help the families of journalists. He said they cannot just build the capacity of the journalism and drive them to achieving excellence by providing awards which they can work for, but on a long term assistance basis it was necessary to positively affect the families of journalists also. In this vein 10 school children of journalists will receive a one off grant support of one million Leones for one year over a five year period.
There will also be a similar package for five children of journalists who are in college or university, and who will be given a one off grant support of five million Leones.
He explained that the final modalities will be worked out with SLAJ but he envisages that there will be nominations, electronic voting by SMS, a panel of judges which will be organized by SLAJ with an Airtel representative.
This whole package will be for five years, and SLAJ's contribution will be to popularize the program and encourage their colleagues to make use of this golden opportunity