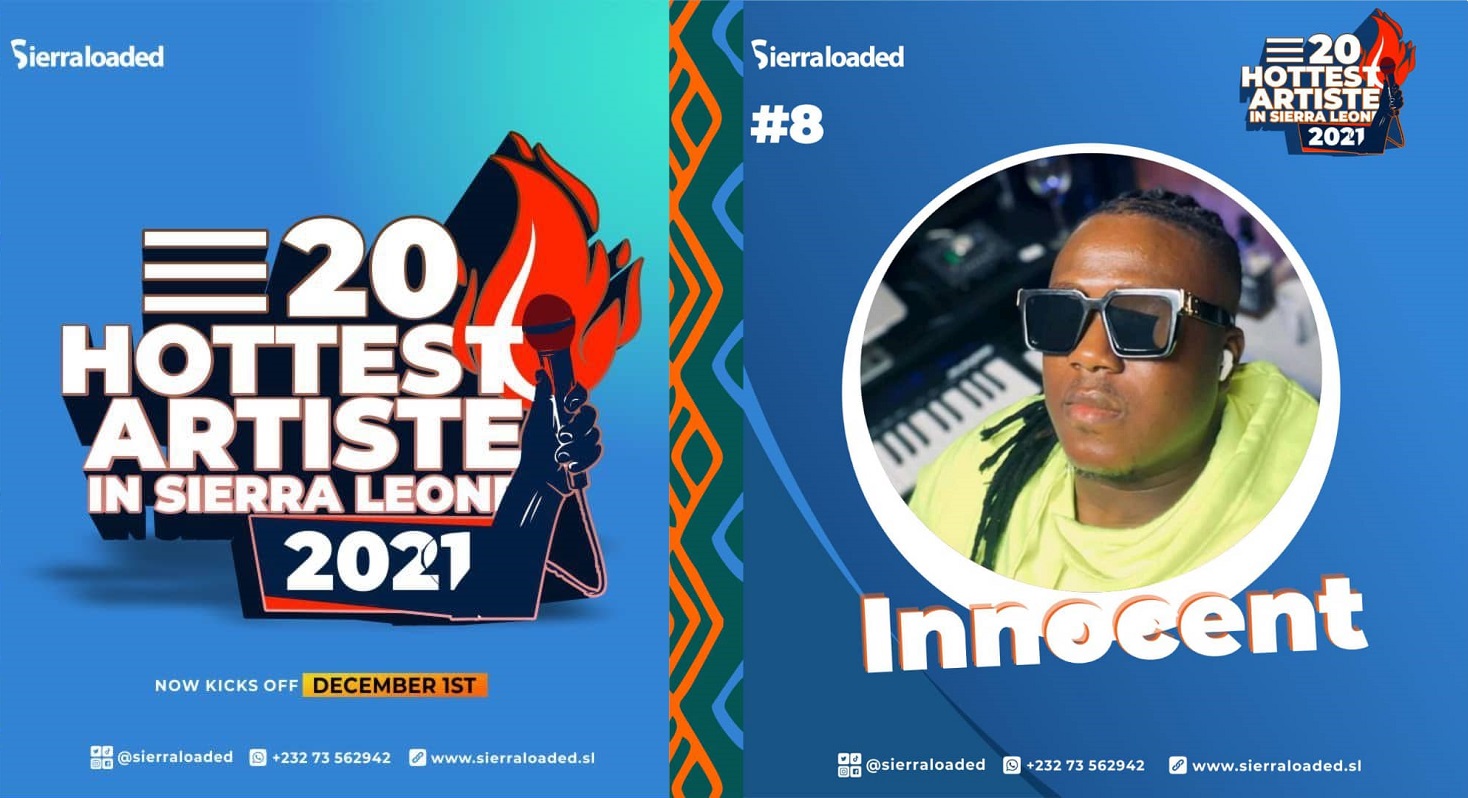 The 20 Hottest Artistes in Sierra Leone 2021: Innocent – #8
Born Prince Kuti George with the stage name Innocent is a Sierra Leonean artiste, sound producer, songwriter and studio engineer based in the United Kingdom.
Innocent started off his music career in 1999 with 'Igwe Society', a music group he co-founded with a childhood friend known as Decent. They released their biggest song titled 'Igwe', which became an anthem in the earlier 2000s. Igwe was a mega hit that crossed the boundaries of Sierra Leone. As a solo artist, Innocent has released countless number of hit songs.
Some of the major hits to his credit include 'De Yai Dae Watch', 'Gi Dem Notice' featuring Chema B, 'Apple of Me Eye' featuring Nega Don, 'Blessing Borbor' featuring Rahim D Wezard, 'DNA', 'Love Letter', 'Pray For Me', and more. In 2011, Innocent's song (Mama Salone) won the theme song for the 50th Independence Anniversary of Sierra Leone.
He is the founder and CEO of Money Making Machines (MMM), under which he has managed a couple of superstars like Sara D Great, M2, Coolest, Rahim D Wezard, Atical Foyoh and more. He was also part of the Noble Squad music crew, headed by rapper, YOK 7. He was a Founding member and the first President of the Eastern Artists Union (EAU) before he migrated to United Kingdom years back.
Innocent is well regarded for his social commentary songs, sweet rhyme schemes, melodies, and his versatility to do any genre of music, including rap, afropop, RnB, dancehall/raggae, tecno, etc.
Few years ago, he was honoured as member of the Order Of The Rokel for his outstanding contribution to music in Sierra Leone. He has several awards and recognitions to his credit, at both local and international levels.
On the 15th November 2019, Innocent celebrated 20 years (2 decades) in Sierra Leone music at the Hotel 5/10 in Kissy, Freetown. The entire music industry was in attendance to pay tribute to the living legend, whose latest song (Pray For Me) is currently number one on all playlists and music charts across the country.
Innocent sits in the #8 on the 20 Hottest Artistes in Sierra Leone 2021 for his tremendous work throughout the year. In 2021, the singer released a 13 track album 'Love Politics & Religion' which contained songs like Mumu, Chairman, Savage, Love Don Krase, Na Dem Go Taya, Oba Yanda, etc. Off the album, he released standard videos for 'God Nor Go Shame Us' and 'Full Package'. In March 2021, 'Pray For Me' hits 1 million views on YouTube.
Innocent was featured on Cool J's 'Prove Dem Wrong' and Abizzy's 'You Nor Know'. Songs that brought both musicians massive airplays in 2021.
On Saturday 27th November 2021, Innocent thrilled the crowd during ECOFEST 'Rejuvenation' at the National Stadium. The singer is presently in Sierra Leone working on some collaborations.