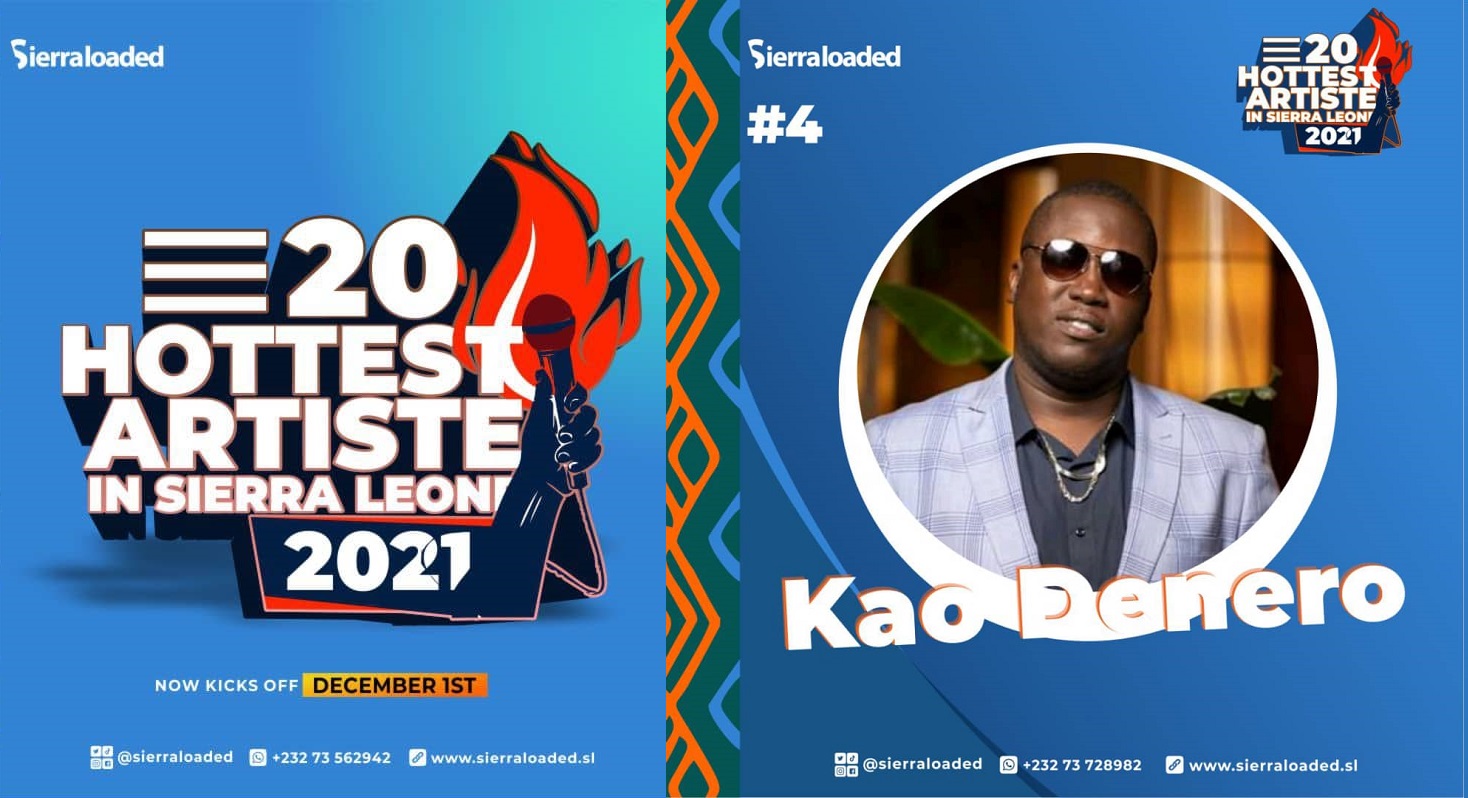 The 20 Hottest Artistes in Sierra Leone 2021: Kao Denero – #4
Amara Denis Turay popularly known as Kao Denero is one of Sierra Leone's most talented Afro Hip Hop artiste with so many hits, performances, awards and recognition to his belt.
Kao Denero is highly regarded because of his versatility in making hits across all genres of music. He is well known for splitting heavy bars with an awesome relatable storyline and a great deal of heavy lyrically lifting to the delight of his listeners.
From being a refugee from Sierra Leone to the United States of America to hitting the world through his music, Kao has had a spectacular career in his 20 years+ stint as a musical icon, winning many local and international awards and nominations. His first album, "Black Leo 4 Life" was released at a time when hip-hop music was difficult to be adopted in Sierra Leone. Despite all the disappointments and set-backs, he never stopped working on his music career. Rather, He has done countless projects such as "Stories From Freetown", "King of Freetown", "Freetown's Most Wanted", "Da New Beginning", "Da Blood Diamond Kid Story", "Back to My Roots", "Now or Never", "Kiss Da Throne", just to name a few of the classics from his diverse musical catalog.
Kao Denero is often described as the most consistent artiste in Sierra Leone with over 10 studio albums to his feathers; Producing back-to-back hit songs and sealing exclusive international collaborations with some of the biggest names in African and global music, such as Shabba Ranks, Sarkodie, Busy Signal, Runtown and many more. He also holds the record of being the fastest Sierra Leonean artiste to hit 1 million views on YouTube for his video with Runtown titled, "Green Gold." within the space of 3 months.
In 2021, Kao Denero gifted his fans with an EP titled "Chronicles" The EP contained hit songs like 'We Not The Same' featuring GPee and Lima Cruz. As the year elapsed, he also released songs like 'Apply You Sef' featuring Star Zee, 'So Fly' and 'Strasser'. On 12th March 2021, Kao Denero was appointed as Sierra Leone's Special Envoy for Entertainment and Investment by President Julius Maada Bio. He became the first Sierra Leonean Entertainer to be honoured with such position.
In the mid of 2021, Kao Denero shutdown Dubai with one of his most talked about show. He was also part of the team that travelled with President Bio and First Lady Fatima Bio to Dubai for EXPO 2020 where he did an exclusive performance. While in Dubai, Ambassador Kao Denero engaged with investors showcasing Sierra Leone entertainment. He thereafter flew to the United States and met with different stakeholders to invest in the entertainment industry.
Despite his national responsibilities, Kao Denero came back to Sierra Leone and entered the studio to introduce young Sierra Leonean rappers on 'Fityai Corner' Cypher. Following the success the cypher, he extended his network to bring more rappers onboard with a Continental Cypher featuring Lyrical Joe from Ghana, King B from Cameroon, Shadow Boxxer from Sierra Leone, and many others.
Kao Denero efforts was crowned with a nomination at the African Entertainment Awards USA (AEAUSA) in the category of "Best Hip Hop/Rap Artiste". He was nominated alongside Nasty C, Ice Prince, Sarkodie, Ko-C, Khaligraph Jones, Elow'n, Vector and Rosa Ree. Taking into account Kao Denero's successes in the year, the Black Leo rapper ultimately sits as the #4 Hottest Artistes in Sierra Leone 2021.