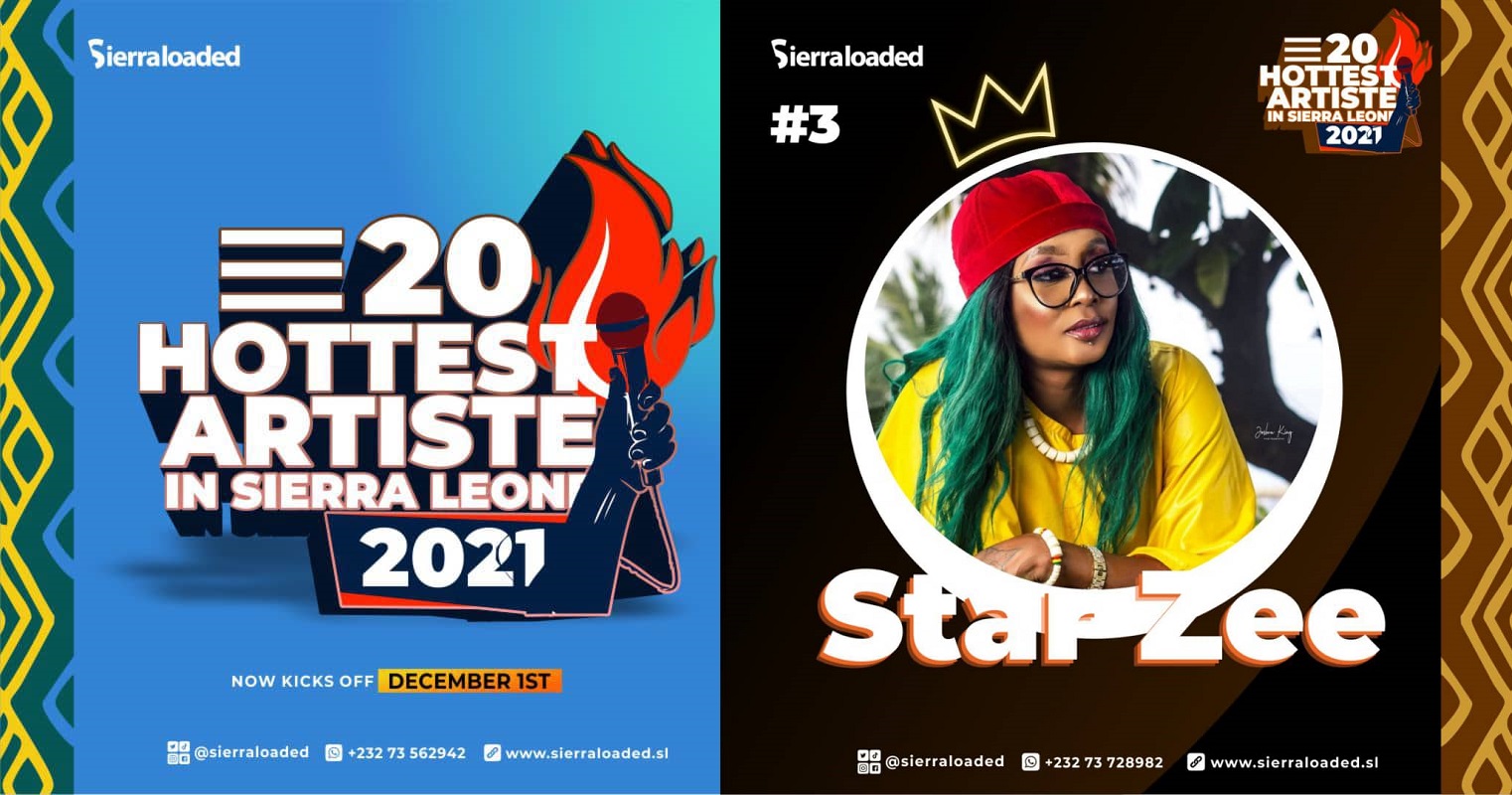 The 20 Hottest Artistes in Sierra Leone 2021: Star Zee – #3
Standing unchallenged as Sierra Leone's Hip-Hop and Dancehall queen, #SaloneHottest list will be uncompleted without a place for our own multi-award-winning and sensational musical prodigy, Linda Samai popularly known as Star Zee.
Star Zee started her career as part of a group, Ladies Day Out (L.D.O) which brought her to fame but She eventually left the group to go solo in 2003. Since going solo, She has been able to enter into a world full of men and have been able to stand her ground and keep her place.
Since the launch of her solo career, Star Zee has released 5 albums, the last of which is titled "Collabo." Likewise, she has been on tour to the United Kingdom, UAE, Australia and performs regularly with other artistes from her country and outside its shores. She has also earned endorsements deals with brands like, Africell, Orange and Befine. She also had a deal with MTN in Ghana whereas her songs were used as call back tune for MTN users.
In March 2021, Star Zee kicked off the year with her much anticipated single titled 'Life'. The official video which shot and directed by Michael Songa was premiered in July 2021. Afterwards, she has was enlisted by Kao Denero in a motivational piece tagged "Apply You Self". Star Zee's latest studio efforts has seen the release of  'Na By Fos' which has already taken over Sierra Leone musical hemisphere since its release in September. The song has also been remixed by several other artistes.
Star Zee's propensity to deliver electrifying performances despite her female gender saw her selected among the few musicians that travelled to Dubai for EXPO 2020 with President Julius Maada Bio and First Lady Fatima Bio. While in Dubai, the female Rapper was also invited to perform alongside Diamond Platinumz, Rema and other Africa artistes at the 'All Africa Festival'.
Over the years, Star Zee has consistently shown herself to be an outstanding and influential female musician with undeniable love and passion for the entertainment industry, with sole purpose of projecting the positive image of Sierra Leone. With several numbers of collaborations and hit singles from the queen still making waves country wide, Star Zee sits on the #3 spot among the 20 Hottest Artistes in Sierra Leone 2021