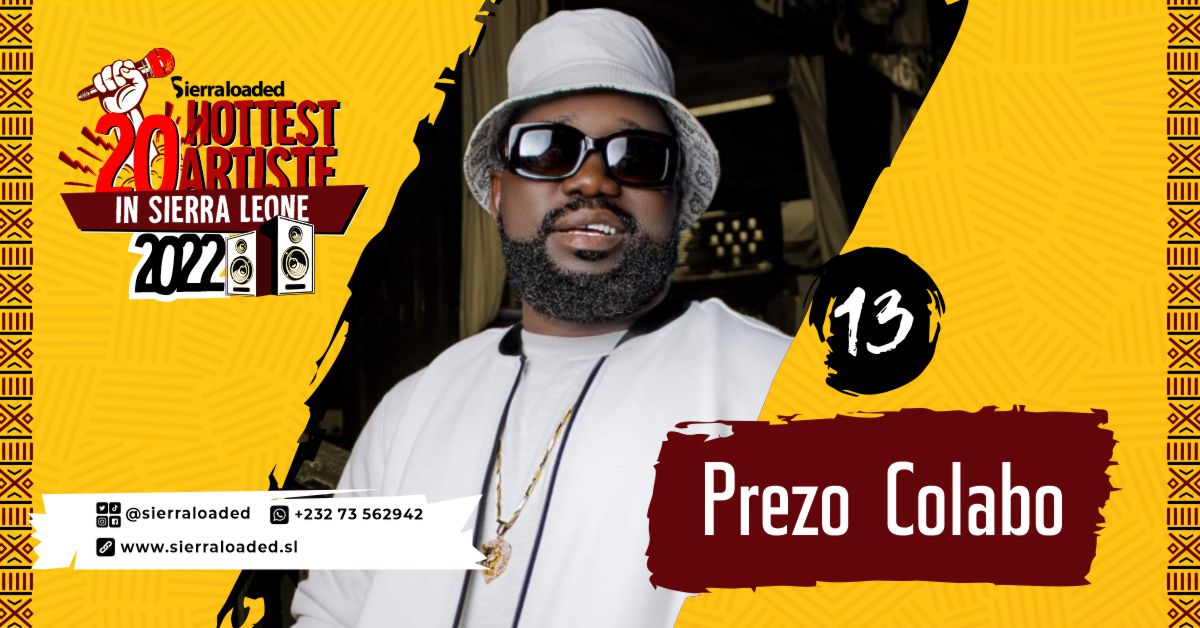 The 20 Hottest Artistes in Sierra Leone 2022: Prezo Colabo – #13
As humanity works overtime to scrub off the scent of pandemic era which rampaged the entertainment industry and threatened a devastating resurgence, we've all witnessed a boom in outdoor activities globally and in Sierra Leone.
Entertainers and musicians are not left out of this and have doubled down to create soundtracks to support the wave and thanks to this, we've had a sonically hotter year, with the airwaves taken captive by banger tracks after banger tracks.
Last year 2021, Sierraloaded started the Hottest Artiste List, an undiluted run down of the Artistes that shaped, defined and led music among Sierra Leonean consumers throughout the year.
This list underscores the entertainers who scored the biggest hits, tours, mega moves on the local and international scene, the award winners, and in general, the people we've listened and danced to for the past 12 months
Be sure you are following Sierraloaded on all social media platforms so as not to miss out on this list.
Prezo Colabo – #13
Ever since Prezo Colabo hit the scene with his Squad Black (SQB), there has been no looking back for the rapper whose sanguine style consists of a blend of traditional and English language in a refreshing new way that appeals to the fans of the new era of Sierra Leone music.
He might now be a Solo artiste but with a strong rank as the Sierra Leone All Stars President and his widely growing fanbase, those who sleep on Colabo, do so at their own risk.
Colabo is a bonafide Sierra Leone star! He's not only shattered the myth that you can't blow in Sierra Leone if you sing in English, he's done it while also rapping, and stayed consistent with it.
Relenting is definitely not an option for Prezo Colabo after becoming the All Stars President and he has shown this with the very remarkable impact made since He climbed up that throne
This year, Prezo Colabo gained more momentum after dropping a classic song for the champions of the Sierra Leone Premier League, Bo Rangers, a team that represents his place of birth. "Big Boy Bo Rangers" plays the feelings of Prezo Colabo as he expresses love for the amazing team.
Colabo further went to release to MULI (Let's Go), 'So So We' featuring I Tribe; '5VO' featuring Kao Denero & Star Zee and most recently 'Street Anthem' which went straight to the street flames.
Internationally, Colabo has spent a significant part of the year out of the country performing at the Pepper Soup Mansion Festival in Australia and visiting Pennsylvania and the United States for musically driven reasons.
Certainly, it is not bad to say Prezo Colabo has had a fantastic year and a deserving #13 spot in the Sierraloaded 20 Hottest Artistes in Sierra Leone 2022.