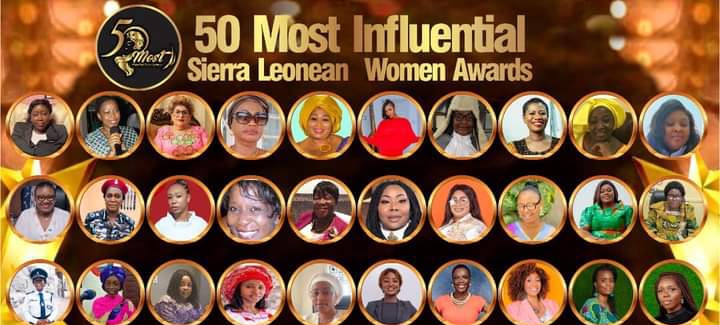 50 Most Influential Sierra Leonean Women Award Winners Announced
The Fifty Most Influential Sierra Leonean Women Awards Committee has announced this year's winners of the 50 Most Influential Sierra Leonean Women Award.
According to the Committee, out of one thousand and eleven nominations it received from the public and after careful analysis of their work, one hundred (100) women for their relentless efforts in contributing to the development of Sierra Leone were shortlisted.
And after a long voting process the committee present below the list of the women that emerged as Winners:
(1) Mrs. Fatmata Clara Carlton Hancils, Executive Director Legal Aid Board
(2) Mrs. Fatima Maada Bio, First Lady of the Republic of Sierra Leone
(3) Mrs. Olga Maria Moigbe- Philanthropist
(4) P C Wokie Jonjo Massaquoi Paramount Chief Gallinese Chiefdom- Pujehun District
(5) Hon. Manty Tarawallie- Minister of Gender and Children's Affairs
(6) Madam Zainab Sheriff- Entrepreneur and Musician
(7) Justice Manuella Harding- Justice High Court of Sierra Leone
(8)Her Worship, Mrs. Yvonne Aki Sawyer MBE, Mayor Freetown City Council
(9) Hon. Find a Diana Konomanyi- Eastern Regional Chairperson All People's Congress
(10) Mrs. Gladys Mabel Sesay, Director of Finance Lappo and CEO Gladel Consultants
(11) Jeneba Kpaka Bangura- Deputy Commissioner-General
(12) Mrs. Elizabeth Turay- Deputy Inspector General of Police
(13) Madam Hawa Sally Samai- Executive Secretary Independent Commission
for National Cohesion
(14) Femi Claudius-Cole- Chairperson Unity Party
(15) Mrs. Juliana Konteh- Director Women in Crisis Movement
(16) Mrs. Marcella Samba-Sesay- Executive Director Campaign for Good Governance
(17) Miss Umu Thoronka- Reporter SLBC Makeni
(18) Miss. Isatu Moses C E O Timap for Women Kambia District
(19) Her Excellency, Francess Anderson, Sierra Leone High Commissioner to Ghana
(20) Mrs. Mariatu Bangura- Chief of Social Services, Ministry of Social Welfare
(21) Joan Bull Esq Legal Practitioner
(22) Hon. Haja Isata Abudulai- Deputy Minister of Trade and Industry.
(23) Madam Sally Adams- President Women's Forum
(24) Hon. Kadie Davies- Member of Parliament Constituency 110
(25) Madam Simbirie Jalloh- Eastern Regional Coordinator Lasser Fever Program
(26) Adama Sillah- Students Union President Fourah Bay College
(27) Ariana Oluwole- Public Speaker
(28) Zainab Tunkara Clarkson- Gender Activist
(29) Nellie A A P Grey- CE O Awod S L
(30) Mariatu G Kanu- CEO She Cure Kailahun District
(31) Madam Justina Zainab Conteh- CEO St George Foundation
(32) Madam Naasu Fofanah,
Entrepreneur, Author, Women & Girl's Right Activist
(33) Dr. Williette James President ASA, FBC
(34) Hon, Dr. Bernadette Lahai- President Women Shadow Parliament
(35) Mrs. Francess P Algali Minister of State V P Office
(36) Madam Fatmata B Jalloh- Gender Activist
(37)Haja Fatu Yumkella- CEO Dalan Consultants
(38) Mrs. Hawanatu Konneh Fofanah Social Media influencer
(39) Mrs. Elenorah jokomie Metzger
Head Woman Regent Village
(40) Leah Fatmata Suma- President Sierra Leone Renewable Energy
(41) Ellen Keister- CEO Reems Entertainment
(42) Aisha Koroma- Psychotherapist and Global Mental Health Advocate
(43) Suafiatu Tunis Social Entrepreneur and Community Activist
(44) Precious Amabel Smith- Social media Influencer
(45) Mariatu Esther Kabba- Social Media Blogger
(46) Eunice Naffie Mustapha- CEO Naffisia Magazine and Writer
(47) Rev. Hannah Gillen- Civil Society Activist
(48) Yasinnah Sabassco Bah Trader Port Loko District.
(49)Fantasy Wizz Kamara- Gender Activist
(50) Sarah L Solomon- Managing Director Eminence Africa.
The Committee congratulate all winners for the 50 Most Influential Sierra Leonean Women Award and urge them to continue their good work.
Expressing thanks and appreciation to all of the nominees for their relentless efforts in promoting development in Sierra Leone, the Committee encouraged them to do more and recognized all the one hundred nominees as Influential people who are contributing immensely to the development of Sierra Leone.
However, due to the Ramadan Month, the Grand Awards Ceremony is now scheduled for the 5th May 2022 at the Bintumani Conference Centre at 5:30 PM.