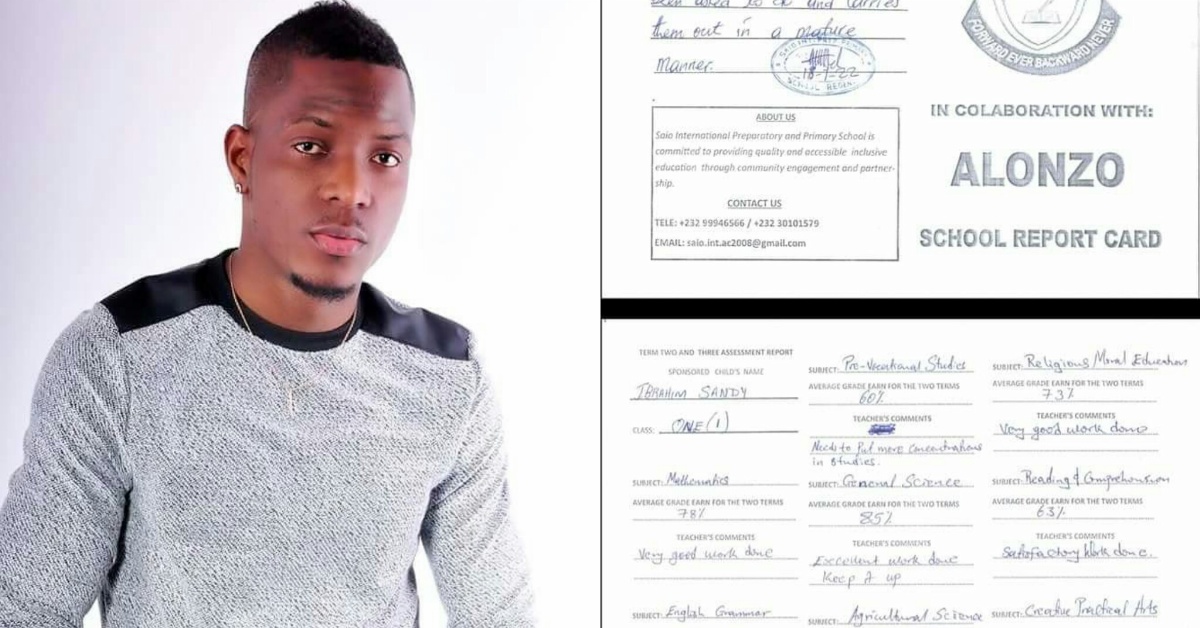 Alonzo Reacts as 15 Students on His Scholarship Program Makes Huge Progress
Popular Sierra Leonean singer Alonzo Teah Abasi otherwise known as Alonzo ha taken on his social media to celebrate success as 15 15 students on his scholarship program make huge progress.
The singe, Alonzo noted that the fully funded scholarship was awarded to students in local community in Freetown.
In his post Alonzo said he Feels so proud that all 15 Students on a scholarship program which he fully funded at a local community school in Freetown for a few years, have made huge progress. He added that he is looking forward to increase the number next year
Read his full post
"Feeling so proud today as all 15 Students on a scholarship program which I have fully funded at a local community school in Freetown for a few years, have progressed. Next year we go again with an increase to the number of students".
"We rise by lifting others" Congratulations guys…"
Alonzo (born Alonzo Teah Abasi) is a Sierra Leonean/Liberian songwriter, recording artist and performer.
In 2003, the US embassy in Liberia organised a competition for HIV/AIDS asking members of the public to create a song that promotes awareness for HIV/AIDS. Alonzo took part in the competition and won. This kick-started the musical career of Alonzo, as the US embassy continued to sponsor him.
Fast forward to 2006 Alonzo released his first mixtape, INNOCENT'. This mixtape received public recognition and was a huge success with songs such as; 'Letter to the president', 'Liberian angel', 'Can't believe' and the single named after the first mix-tape, Innocent.
This successful mixtape continued to create a lot of attention over the years which resulted in him getting signed to callbox records in 2008. It was then that he released his debut album which contained the big song – Angel. The album titled track, Africa unite, became an international hit; the BBC radio network took a huge interest in Alonzo's work and frequently played his work across the BBC network. This led to Alonzo securing a lucrative deal with leading record label Sony and BMG.