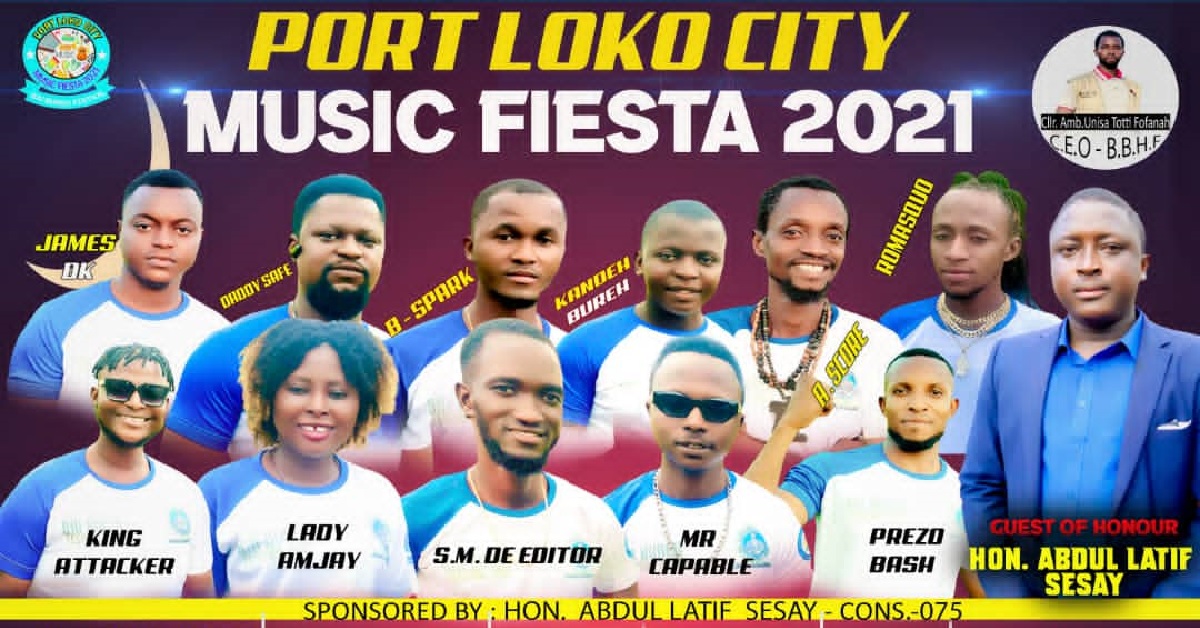 Bai Bureh Heritage Foundation Releases Final List of Artistes For Port Loko City Music Fiesta
The Bai Bureh Heritage Foundation has released final list of artistes that will be performing at the Port Loko City Music Fiesta 2021 slated on 28th December, 2021 at the EBKUST Amphitheatre.
On the list of Port Loko artistes; James DK, Daddy Safe, B-Spark, King Attacker, Lady Amjay, S.M. De Editor, Mr Capable, Kandeh Bureh, A-Score, Romasquo and Prezo Bash will be performing live at the fiesta. The fiesta also has guest artistes that are breed from Port Loko and residing in different part of the country. A'Bangs, M-Posh and others will join the team from Freetown and Heavy Rain from Kenema. Special guest appearance from Chief Koblo; Tamba B of Africell. The fiesta is sponsored by Hon. Abdul Latif Sesay, Member of Parliament for Constituency 075 in Port Loko City.
The Port Loko City Music Fiesta is a musical battle of supremacy among eleven (11) Port Loko musicians for six Grammy Awards for Best Musician, Best Supporting Artist, Best Hip Hop Song, Best R&B Song, Best Performing Artist and Best Song of The Year. BBHF partnered with Culture radio, Style One Entertainment and Radio Bankasoka to make the fiesta successful and project the positive image of Port Loko music.
The Executive Director of Bai Bureh Heritage Foundation who is also the Councillor, Unisa Totti Fofanah ideas is to change the narrative and the face of Port Loko music in terms of branding and promotion.
It's the clash of the musical titans for the first time in the history of Port Loko music. Love Port Loko music and support Port Loko music on the 28th December at the EBKUST Amphitheatre (Yainkainpepeh) under the Bai Bureh Festival 2021.