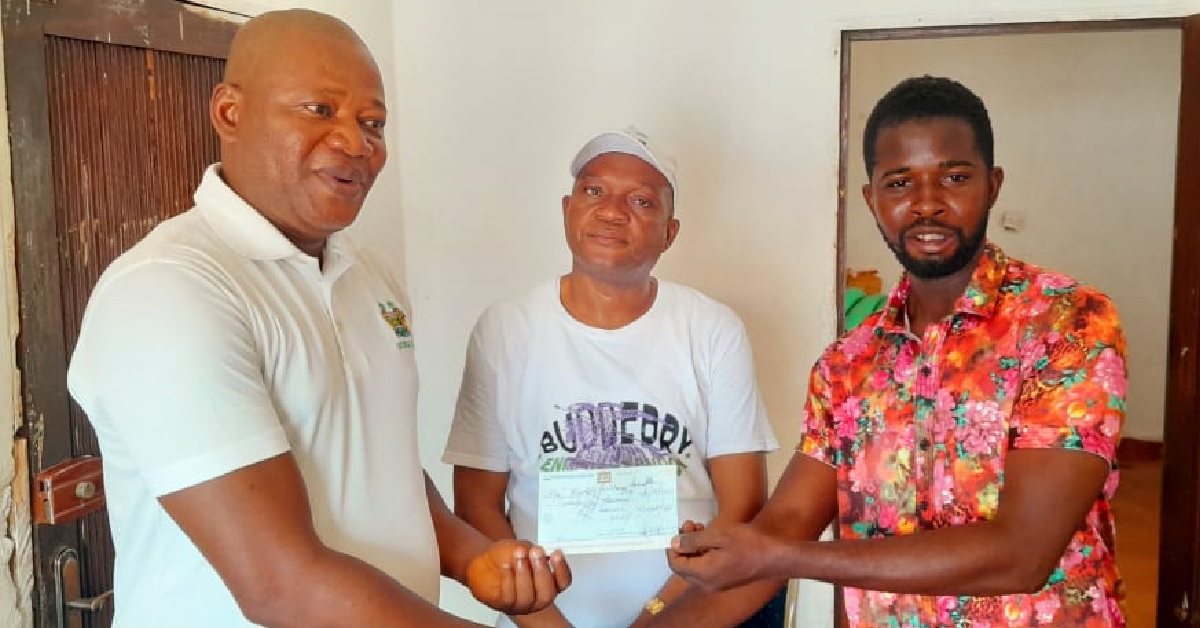 Bai Bureh Heritage Foundation Completes Arrangements Ahead of December's 2022 Bai Bureh Service Delivery Awards
With Support from PC Koblo Queen ll of Marampa Chiefdom, Bai Bureh Heritage Foundation has completed it's arrangements for the Production of the 2022 Bai Bureh Service Delivery Awards in the Republic of China.
On an exclusive interview with Ambassador Unisa Totti, the Executive Director of Bai Bureh Heritage Foundation and the Paramount Chief of Marampa chiefdom, Chief Koblo Queen II, they showed ecstasy to the progress the foundation is taking.
"As we are heading for the 5th edition of the Bai Bureh Service Delivery Awards, we want to utilize this golden opportunity to reliably inform the general public especially our media followers that we have successfully completed and concluded all our arrangements including financial payment with the company working on the production of the 2022 Bai Bureh Service Delivery Awards in the people's republic of China." Amb. Totti, he disclosed.
To be a stakeholder entails a lot and the indefatigable Paramount Chief Koblo Queen ll has once again proved his strong willingness, commitment and passion to empower youths in development especially in the aspect of actualizing their little dreams.
In Port Loko District, the Bai Bureh Heritage Foundation is currently the leading youth empowerment organization that seeks to contribute to societal development and national transformation through the annual citizens recognition program of the Bai Bureh Service Delivery Awards, Education, Agriculture, Health, Tourism and WaSH especially.
On the aspect of the Citizens Recognition program, this year will mark our 5th edition in which Paramount Chief Koblo Queen ll will be serving as the distinguish Grand Chief Patron and Speaker in line with the adage which says: 'Let's give honour to those whom honour is due.'
The goal oriented Paramount Chief is one among the people that deserves to be celebrated, recognized and honoured for his immense contributions towards humanity and community development ranging from Education, Health, Agriculture, Infrastructure, Sports, Youths and Women's Empowerment specifically.
The support was presented in a form of cheque that amounted to the sum of Le 20,000 (Le 20,000,000) at a period the Bai Bureh Heritage Foundation needed the sum of Le 18,000 (Le 18,000,000) to offset the payment for all that is involved in producing and customizing the gold trophies. It was a snappy event that was witnessed by Amb. Abdul Osman Turay- AOT and the media team of P.C Koblo Queen ll.
Presenting the Cheque, the Paramount Chief disclosed his delight to have been a part in the contributions to empowering youths and recognizing the efforts of the living in their different works of life.:
"I am extremely delighted to make my own contribution to not only an event of Port Loko District but an event that has a national clout. I want to commend the Bai Bureh Heritage Foundation for promoting the image of Port Loko District positively and their passion to contribute to developmentally which they have proved beyond expectations." Chief Koblo Queen II mentioned.
The Paramount Chief continued that, he deemed it significant that Stakeholders render their support to such ventures that focus on youth empowerment.
"As a District stakeholder, I deem it significant that we should give our little support to such a focused youth group so that can do more and achieve more." Koblo Queen II added.
The media team of PC Koblo Queen II, Abdul Osman Turay adding his voice to the foundation disclosed his confidence in the foundation. This he said is because he knew they are capable of organizing the show and he added that he had witnessed series of their programs being successful. Mr. Turay toe the line in appreciating the Paramount Chief, Koblo Queen II for crossing borders to support the empowerment of youths in another chiefdom within Port Loko District.
"I can envisioned the 5th edition of Bai Bureh Service Delivery Awards to be more bigger that which we are very hopeful to grace it's functioning and sharing." Abdul Osman Turay mentioned.
Upon receiving the cheque, the Executive Director- Amb. Unisa Totti Fofanah thanked the Paramount Chief and his team for looking into their request of having the Paramount Chief as Distinguish Grand Chief Patron and the budget attached. Today is another day to push more because this is a clear manifestation of been committed to make things happen for our people and their communities.
The organization have been engaging and updating the Paramount Chief on yearly basis on the challenges, setbacks and progress of our activities since 2019. On this occasion, we want to assure the judicious use of the support and to confirm that the funds will definitely take care of the fabrication/making and transportation of the trophies from the people's Republic of China to Sierra Leone.
Currently, we are the only awarding body that brings factory customized awards in Sierra Leone. The event for this year will hold on Saturday the 10th December, 2022 in which 20 Service Providers will be awarded at Northwest Regional level and 20 will be awarded country wide. Like the previous years, our team is always committed to give regular updates on the processes and preparations of the event especially to our financial contributors and Cooperate Partners. Thank you Paramount Chief Koblo Queen ll and team for supporting this year's red carpet event at our 5 years anniversary of sustainable implementation.
Bai Bureh Service Delivery Awards 2022- We Celebrate People when they are alive.