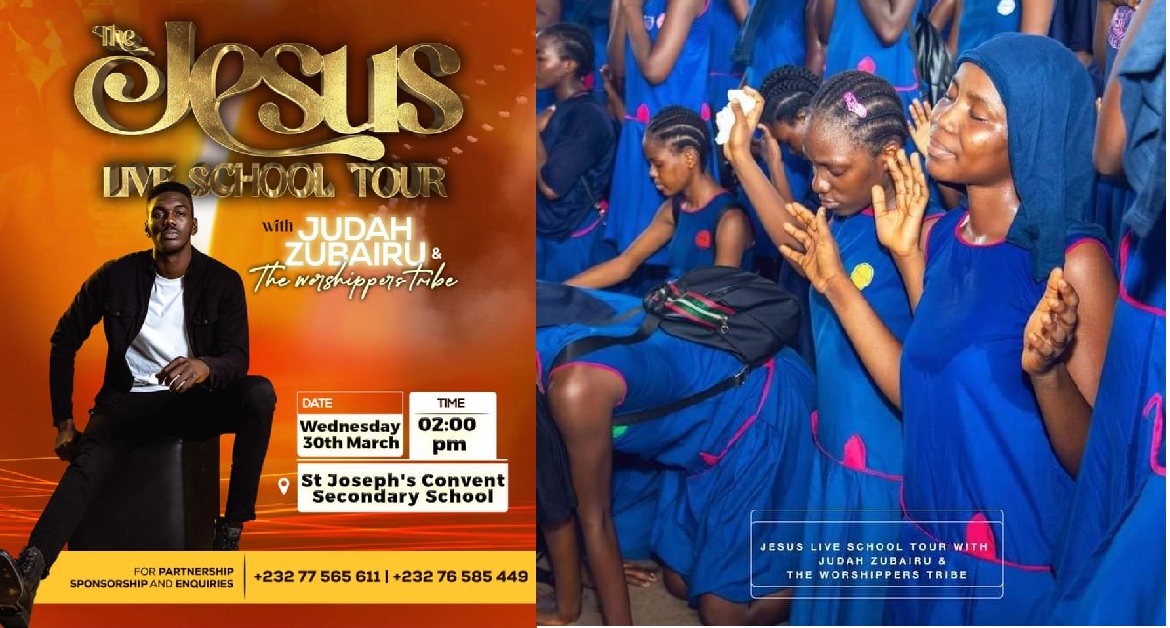 Gospel Musician, Judah Zubairu Takes School Tour to St. Joseph's Secondary School
Sierra Leonean Gospel musician Judah Zubairu and The Worshipers Tribe – TWT has visited the St. Joseph's Secondary School in continuation of their Jesus live school tour.
The theme of this school tour is to visit schools and help spread the word of God to pupils at their early age before society can corrupt their thinking to the extreme. Every human, as a philosopher once said is born innocent. It only the forces of society that mislead us. This tour focuses on teaching the word of God and capture young souls for Jesus Christ.
In their tour last week Wednesday, the gospel musician and the TWT visited the Freetown Secondary School for Girls (FSSG) to administer the word of God. Their visit was successful as they were able to deliver the word of God with full participation of students and staff.
Today, Wednesday 31st March 2022, Judah Zubairu and The Worshipers Tribe – TWT, visited the St. Joseph Convent Secondary school in continuation of their tour to capture souls for Jesus Christ.
Judah Omeiza Olatula Zubairu is a Sierra Leonean gospel minister, worship leader, songwriter, and vocalist. Born on the 4th of January, he is the last born out of 3 children. At an early age, he developed an interest in music. Over the years he has used his gift to minister to many all to the glory of God.
"Interestingly, before I was born my parents already knew that I would be singing thus they named me Judah (praise)," he said, "it was not a surprise when I suddenly developed an interest in signing. Apart from that I also got confirmations. There is always this fulfilment in me whenever I sing to the glory of God. From an early age, I just knew that this was my purpose and the love for it kept growing" the gospel musician added.