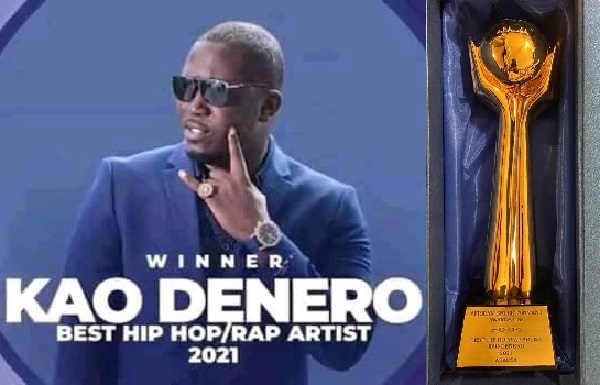 Kao Denero Receives Golden Award Plaque as AEAUSA Best Hip Hop/Rap Artiste
Sierra Leonean Rapper and Black Leo Music Boss, Amara Dennis Turay popularly known as Kao Denero has received a golden award plaque as the winner of the Best Hip Hop/Rap Artiste at the prestigious African Entertainment Awards USA (AEAUSA).
Kao Denero's victory was announced during the 7th AEAUSA held yesterday December 26, 2021 in the United States. The ceremony was broadcasted live on AEAUSA YouTube channel.
Kao Denero defeated African heavyweights like Nasty C, Ice Prince, Sarkodie, Ko-C, Khaligraph Jones, Elow'n, Vector and Rosa Ree to covet the highly prestigious award giving him more recognition among his peers.
While sharing a picture of the gold platted award, Kao Denero wrote; "Thanks to the God of Abraham
"Thank you Sierra leone
"Thank you Africa
"Thanks to all the fans who voted at home and the diaspora.
"It was long overdue but still timely.
"Never ever give up
"The mission has always been to change the narrative of non believers thinking it can never be.
"Well now it has happened lol.
"Big things do come from small places.
"They say whatever happens on Saturdays has the tendency of repeating it self,oh well more awards on the way then lol.
"God bless us all"
African Entertainment Awards USA (AEAUSA) is a Non-Profit Organization established in New Jersey USA to support, celebrate and uplift African Entertainment. We use entertainment as a platform, to showcase an Africa that is united, self-sufficient, and willing, and able to evoke social change that matters most in the communities of Africans all over the world.
The award has been reward excellence in entrepreneurship, community leadership, and the entrainment industry in Africa and the diaspora. The ceremony was sponsored by Empak Corp, and Siderz Entertainment LLC.
Kao Denero had previously appeared on the #4 spot on the Sierraloaded 20 Hottest Artistes in Sierra Leone 2021. The Black Leo musician is highly regarded because of his versatility in making hits across all genres of music. He is well known for splitting heavy bars with an awesome relatable storyline and a great deal of heavy lyrically lifting to the delight of his listeners.
In 2021, Kao Denero gifted his fans with an EP titled "Chronicles" The EP contained hit songs like 'We Not The Same' featuring GPee and Lima Cruz. As the year elapsed, he also released songs like 'Apply You Sef' featuring Star Zee, 'So Fly' and 'Strasser'. On 12th March 2021, Kao Denero was appointed as Sierra Leone's Special Envoy for Entertainment and Investment by President Julius Maada Bio. He became the first Sierra Leonean Entertainer to be honoured with such position.
In the mid of 2021, Kao Denero shutdown Dubai with one of his most talked about show. He was also part of the team that travelled with President Bio and First Lady Fatima Bio to Dubai for EXPO 2020 where he did an exclusive performance. While in Dubai, Ambassador Kao Denero engaged with investors showcasing Sierra Leone entertainment. He thereafter flew to the United States and met with different stakeholders to invest in the entertainment industry.
Despite his national responsibilities, Kao Denero came back to Sierra Leone and entered the studio to introduce young Sierra Leonean rappers on 'Fityai Corner' Cypher. Following the success the cypher, he extended his network to bring more rappers onboard with a Continental Cypher featuring Lyrical Joe from Ghana, King B from Cameroon, Shadow Boxxer from Sierra Leone, and many others.