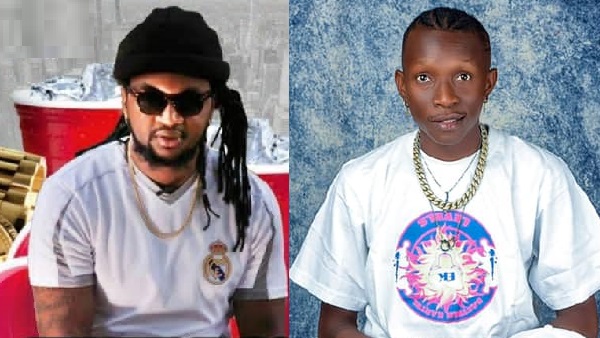 "LAJ is My Brother, I Love Him so Much" – Rap Gee Declares Love For Boss La After Disrespect
After a long social media battle and disrespect, Rap Gee finally declared love for Sierra Leonean rapper, Boss La. On a post, the singer made it clear that the rapper is his brother and added that he loves him so much.
Few months ago, Rap Gee and Boss La had a social media clash about the "Complain" song which featured Boss La, Arkman, I-Tribe, Rahimo and Rap Gee himself. The song was done over 6 months before it released. After it released and the song went viral, Rap Gee posted on Facebook that he has requested from Boss La to remove his verse from the song and he was not interested to be part of the project again. Boss La refusal made the singer to do a Facebook live and insulted the rapper. He said the rapper did the song for his personal interest and not for the interest of the people. He added that, his voice was recorded when he was under the influence of alcohol.
The insult from Rap Gee was too much that pushed Boss La to go live on Facebook and explained how the song was done. According to Boss La, the song was recorded with the consent of all the artistes in the song. He said after the mastering of the song, they all sat together and listened to it. All of them gave their consents to release the song. Boss La highlighted some of the things he did for Rap Gee when they were hanging together. He said he booked hotel room for the singer for over 1 week and took care of his bills without requesting any single cent from him.
The song was in store when Rap Gee had the opportunity to join Fatima Bio's Hand Off Our Girls pad distribution campaign along with Famous, Markmuday, Kao Denero and others. After spitting some raw facts on the song against the ruling government, Rap Gee became frightened that he will lose all the opportunities he had from the First Lady. This made him to go live on Facebook and disrespected Boss La. The singer alleged that the rapper requested money from him on any payment he receives from the pad distribution. He continued saying that Boss La asked him to give him money so that he can remove his verse from the song.
"Complain" is a controversial song done by Boss La featuring Arkman, I-Tribe, Rahimo and Rap Gee. The song highlighted the negative side of President Bio's government. It talks about the killing in the country, the injustice, detention of opposition leader; Kamarainba, Fatima Bio's Hands Off Our Girls Campaign and bad governance.
Rap Gee who was part of the team to Dubai for Dubai Expo 2020 has cleared the air that he loves Boss La so much and the rapper is his brother.