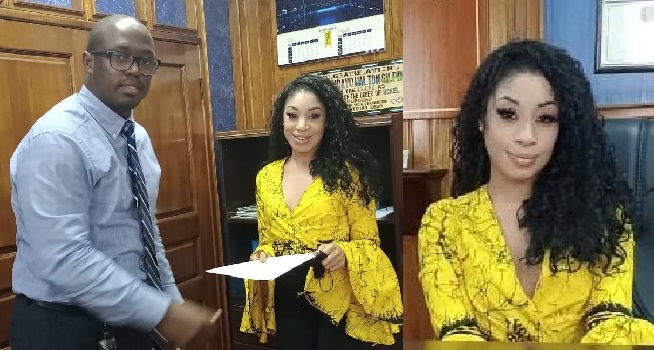 Rokel Commercial Bank Signs Hurai Bangurah as Brand Ambassador
Just few weeks after signing Frederick Peters, a.k.a Famous, Hurai Bangurah has joined the list of Brand Ambassadors for Rokel Commercial bank.
Bangura was introduced to the public on Tuesday, July 27, 2021 after a signing ceremony at the Rokel Commercial bank head office in Freetown.
Until her appointment, Hurai Bangurah was the Head of the Entertainment Department at the AYV Media Empire. She is a British Sierra Leonean – born and raised in the UK but moved back to Freetown, Sierra Leone.
Being a diverse character, the TV personality is multi-tasked in her department. Hurai has hosted various red carpet events in and out of Sierra Leone; known for her sweet words and charms on the streets of Freetown. She presents one of the most watched TV shows in Sierra Leone "The Brain Teaser" Show on AYV TV, along with being an Entertainment Anchor for "AYV Entertainment News" and a Red Carpet Host on "AYV's Red Carpet".
Hurai has also presented/hosted the "Fanzone" segment for two of the biggest reality TV shows in Sierra Leone, "Housemates Salone" and "Big Sister Salone".
Rokel Commercial bank is the leading financial servicer provider in the country. The bank has clocked over a century in service to the people of Sierra Leone, initially as Barclays Bank of Sierra Leone.
The Bank is presently under the leadership of Dr. Ekundayo Gilpin, the Managing Director of Rokel Commercial.
In a bid to sensitize and also for customers, and non-customers to know more about products and services, the management through the leadership of the Managing Director has signed renowned TV personality and public figure Hurai Bangurah as special digital Emissary for the Bank.
Rokel Commercial bank and Hurai Bangurah will be seeking to promote products like "Rokel sim Korpor plus, online banking, and many more.