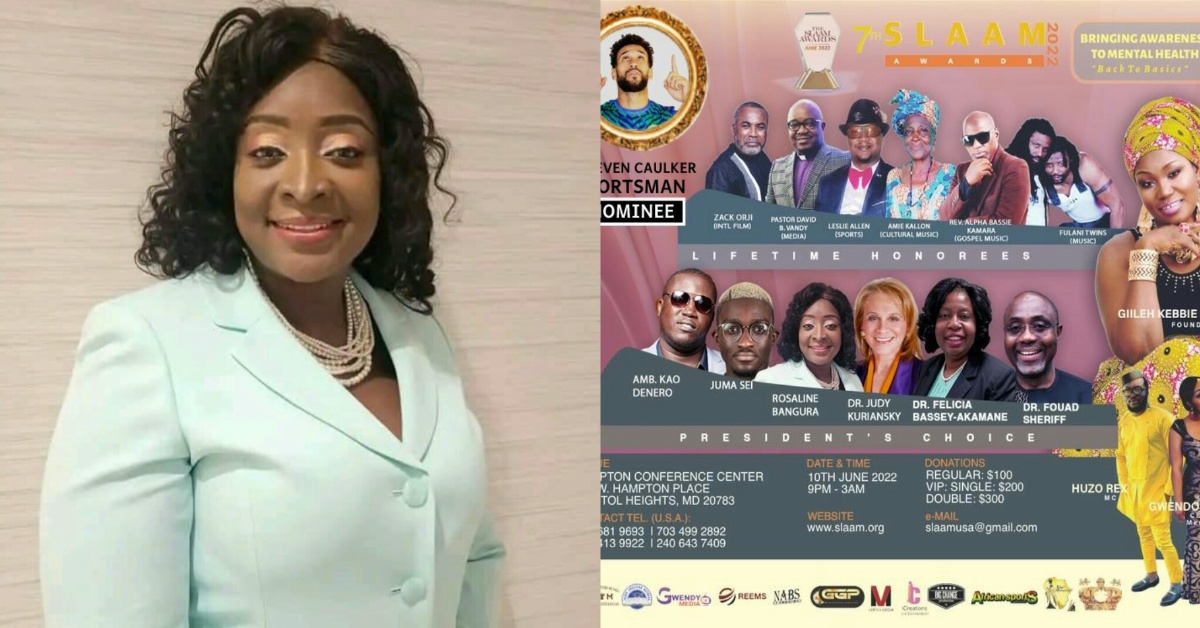 Rosaline Bangura Bags SLAAM President's Choice Award
Founder and Executive Director of the humanitarian organization Be Rose International, Rosaline Bangura set to receive the Sierra Leone Association of Artists and Musicians (SLAAM) President's Choice award at the 7th Lifetime achievement awards.
The 7th Lifetime Achievement Awards will be held on Friday, June 10, 2022, at the Hampton Conference Center 207 W. Hampton Pl. Capitol Heights, MD 20783 – the USA.
Rosaline Bangura is among the six recipients of this year's SLAAM President's Choice honorees as a result of her outstanding humanitarian work to transform lives, and the event will be held on Friday, June 10th, 2022 at the Hampton Conference Center in the United States of America.
SLAAM is a forum for the advocacy of Sierra Leonean music and artistic talent in the USA that aggressively supports the creative and economic viability of Sierra Leonean professionals in the entertainment field to not just succeed in Sierra Leone or within the Sierra Leonean Diaspora but to succeed in the mainstream USA music industry and ultimately experience a long-deserved global recognition.
In its drive to always celebrate outstanding Sierra Leoneans from both home and abroad, SLAAM has 6 Lifetime Achievement Honorees and 6 President's Choice Honorees as follows:
Be Rose International over the years has been working to capacitate women and girls, providing support to widows, breakfast school feeding projects for a few school-going pupils in a few selected schools, and as well providing menstrual hygiene education and reusable sanitary pads to girls during their nationwide period poverty tour.
Lifetime Achievement Awardees
Pastor David Vandy – Media Personality
Amie Kallon – Cultural Singer
Fulani Twins – Musicians
Leslie Allen – Sportsman
Rev. Alpha Bassie Kamara – Gospel Singer
Zack Orji – International Actor
President's Choice Honorees
Amb. Kao Denero – Rapper & Special Envoy on Investment and Entertainment
Dr. Fouad Sheriff – Medical Humanitarian, CEO of Cotton Tree Association
Rosaline Bangura – Humanitarian
Juma Sei – Scholar/Athlete
Dr. Felicia Basse-Akamane – Humanitarian
Dr. Judy Kuriansky – Humanitarian