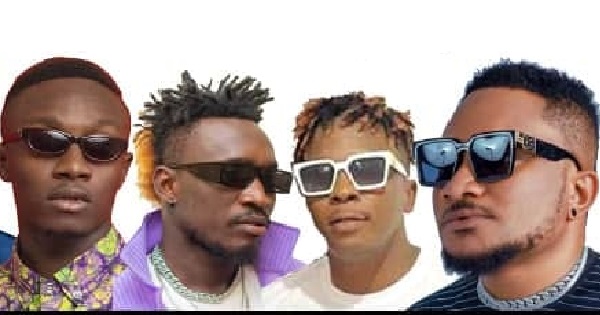 For Smol Smol $20,000, Salone And Naija in Big 'Problem'. Drizilik, Markmuday, Jooel and Masterkraft Implicated
Sierra Leone and Nigeria have collaborated in one of the most expensive entertainment deals featuring Drizilik, Markmuday, Joel and the celebrated Nigerian producer Masterkraft.
What started in a studio in Freetown has metamorphosed into one of the biggest collaboration in the sub-region in recent times with the song 'Problem', which is the first song from Sierra Leone to have got more playing times in Nigeria and a special feature in the Big Brother Naija weekend party.
Theophilus Sho-Cole is the Chief Executive Officer of Vybz Studios and Cribs International. He says the song came as a gift from Nigerian producer, Masterkraft who visited Sierra Leone for the Housemates Reality TV Show on AYV Television in December 2020.
"Masterkraft started the beat in his hotel room and called me to listen to it and asked that I get him good talented artists to vibe and sing with him on it," explains Sho-Cole.
'Problem' is the most trending Sierra Leonean song across Sierra Leone; in Nigeria where it was launched it has made it to major TV stations and radio stations as well as other online platforms in the Sub-region.
Sho-Cole says he has invested over $20,000 to get the song where it is, from getting the artist to travel to Nigeria, their accommodation and shooting of the music which is of high quality and resolution.
He says the song is his own way of supporting Sierra Leone's entertainment, to push it to the Sub-regional level, the continent and the world especially when we have the talents and they've proved that in this and many other songs they have done.
"I believe in collaboration, this should be our new competition with countries like Nigeria, they've got the equipment, the infrastructure and the market that we can tap into to get to the next level," he notes.
The song features already established artists who have produced albums and have hit songs in Sierra Leone. Since the releases of the song, they say they have been overwhelmed with messages, calls and kind sentiments.
"It is a wonderful feeling working with Masterkraft who has been an inspiration since I was a kid. Its overwhelming, it feels good, it exceeded our expectation, God is good," Jooel, one of the artists says.
Markmuday says he feels special and blessed to have been part of this collaboration which he believes is a stepping stone for many good things to happen for them as individuals and Sierra Leone's entertainment.
"To be part of the 'Problem' song is a blessing and working with Masterkraft one of the biggest in Africa is huge blessing," he says.
For Drizilik, the collaboration between Sierra Leone artists and a big Nigerian producer like Masterkraft is a special feeling and no surprise that the song is a hit already.
"I love how far the song is going, I am loving it so far and thanks to Vybz City for bringing us together. I know we are all very talented artists, Markmuday, Joel and Masterkraft but putting us together is not something many people thought will happen," he says with his trade mark smile.
Since its was uploaded on the Cribs International YouTube account, the song has hit over eighteen thousand views in a week, over one thousand shares on TikTok and several other shares on Facebook and other social media platforms.
Sho-Cole assures that this will not be the last as there are songs done by the individual artists that will be released soon in Nigeria and will be promoted the same way as 'Problem.'
"This is what we will continue to do, I am willing and ready to support other artists achieve the same success and playing time the song 'Problem' has got so far. We will definitely achieve our dream collectively," he says.