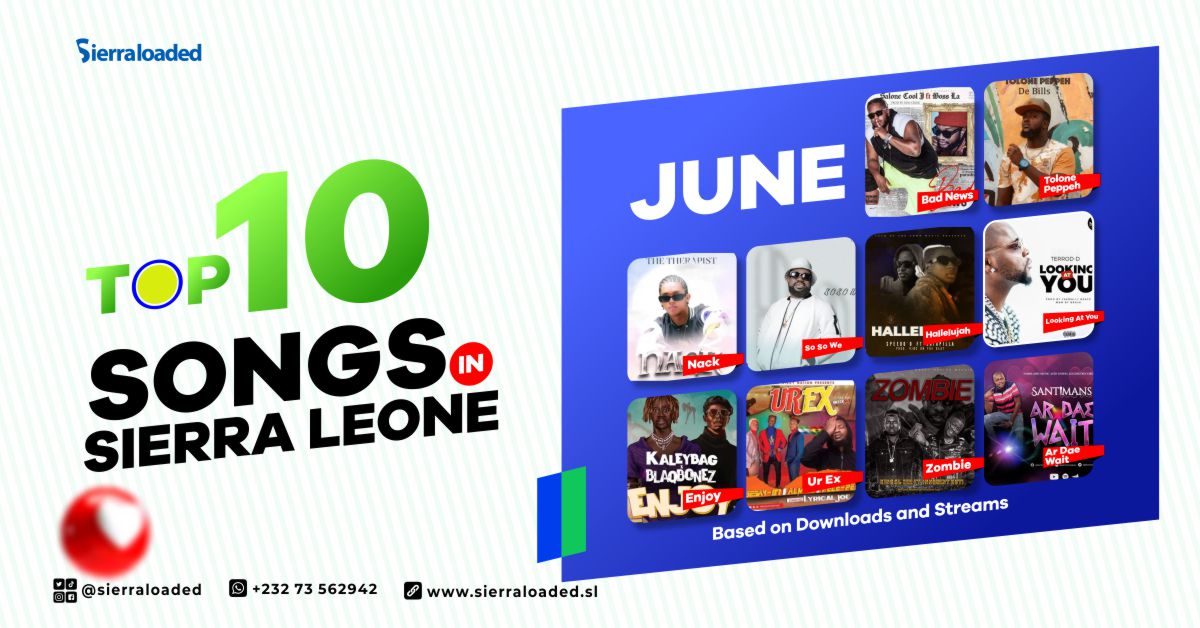 Top 10 Songs in Sierra Leone For June 2022
Happy New Month of July, Sierraloadites!
The new month is here but the last 30 days in the month of June has paved way for fresh sound in the Sierra Leone music scene. New songs are out to start dominating the playlist while particular songs have continued to hold sway on the music charts.
Entertainers and musicians have doubled down to create soundtracks to heat up the wave and thanks to this, we've had a sonically hotter year, with the airwaves taken captive by banger tracks after banger tracks.
To serve as a stamp of the times and give props as and at when due, Sierraloaded has racked up a list of the top songs released for the month of June 2022, scoring them based on the metrics gathered on Sierraloaded website i.e. view count, streaming numbers and downloads.
Below are the top songs released so far in the month of June 2022:
10. Santimans – Ar  Dae Wait (489 Downloads)
Farmland Music and Living Legend Records present Santimans, an afrobeat music maker with an amazing style of delivering messages through his music that has been appreciated by many.
This song title "Ar Dae Wait" which means "I Am Waiting" is a classical afrobeat love song that talks  about the quality of your love one, even if that person is away,  you should be able to wait.
"Ar Dae Wait" is a great project that was well produced by Alman and off the soon to be released album "The Hopeful".
9. King SL Zee – Zombie Ft Innocent kuti (619 Downloads)
Meet King SL Zee, he's a born Sierra Leonean rapper, singer, and songwriter based in the UK (United Kingdom, London).
He is known for his unique style, rap skills, stage performances, and exhibiting his wide range of musical styles, including hardcore rap, dancehall & afrobeats.
Born and raised in Sierra Leone Freetown, he is the CEO of Black Game Entertainment which has been extremely doing well in the music industry.
8. Kai Kizzy Nation – Your Ex Ft. Lyrical Joe (653 Downloads)
Kai Kizzy Nation presents Sesay-07, Alman and Pele-Pel with a brand new afro-pop single tagged "Your Ex" on which they featured Ghanaian new Star Lyrical Joe.
On this song called "Your Ex", the above music makers dished out some tight bars differentiating between past relationships and present relationships and all this was done on a beat by Twice Ice.
Twice Ice also gave us something to vibe to on this track and it is one hot banger you will enjoy checking out.
7. Kaley Bag – Enjoy Ft. Blaqbonez (717 Downloads)
It really takes hard work and determination for Someone from Sierra Leone to release songs continuously like Kaley Bag does. The rapper sets another record as He features one of Africa's top act from Nigeria called Blackbonez.
Whichman Records presents Enjoy by Kaley Bag and Blackbonez, a classic afro-pop song that talks about enjoying life as life is all about YOLO and to also take responsibility for your actions.
Check this out and enjoy anther classic from Kaley Bag who teamed up with Blackbonez to give you this. Download, share and show some love by following the rapper on all social media.
6. Terror D – Looking At You (770 Downloads)
Mic City Music presents a legend in the Sierra Leone music industry with another masaka afro-pop banger tagged "Looking At You" by non other than the CEO Terror D.
Produced by Jaemally is a nice song on which Terror D sang about all the wonderful things that His lady has been doing and how he has been looking from a distance. This was also mixed and mastered by Brain.
5. Speedo'o – Hallelujah Ft. Katapilla (831 Downloads)
Talk Of The Town Music presents Speedo'o, one of the realest rappers from Sierra Leone with another smashing hit single for this year worth checking out.
Title "Hallelujah" is a massive loner track for all the brothers and sisters who believe only in God as they go through this heartless world. This masterpiece which also motivate the hungry youths was produced by Vinc On The Beat.
Speedo'o collaborated with Katapilla on this banger and it is a project not only for Sierra Leone and Kenya but for the world at large to enjoy and learn from on the regular.
4. Prezo Colabo – So So We Ft. I-Tribe (936 Downloads)
The All Stars President, father of the groove, popular known as Colabo (Prezo Colabo) drops another massive jam off the "So So We" album and this song is also called "So So We" on which he featured I Tribe.
This particular song off the album was produced by Wilbert and it is the anthem off the album as it talks about the name Colabo, why he should be celebrated and all that is to know about the hit maker.
Colabo is one of the most peaceful and dedicated super star from Sierra Leone to check out and continue following.
3. The Therapist – Nack  (1,156 Downloads)
Sierra Leone-born singer Jacob Evangelista popularly known as The Therapist comes through with a brand new single titled "Nack".
The new record "Nack" is an impressive breakthrough single for the young talent, it is a great vibe and a danceable tune produced by Masterkraft.
The singer puts in a creative effort to serve something different and the result is quite impressive.
The tune is pretty catchy and one that would get you easily hooked. We recommend you add this to your music playlist.
2. De Bills – Tolone Peppeh (Boss La Diss) (1,320 Downloads)
De Bills brought it back Sierra Leone "HIP-HOP" exercising his lyrical abilities in a brand new FREESTYLE.
De Bills has some mad skills an absolute lyrical genius. He's coming for rap heavyweight Title.
Definitely the most confident spitter in this generation and I would even go far as to say his ability to remember a lot of stuff right after he writes them is really amazing (SL Naija TV).
On this trending song title "Tolone Peppeh", He fires hard at rapper Boss La and points out issues affecting the entertainment industry and Sierra Leone.
1. Salone Cool J – Bad News Ft. Boss La (1,839 Downloads)
Black Conscious Movement and Bigmantok present another master-mind track by Salone Cool J, the same hit maker for "Prove Them Wrong" on which He featured Innocent Kuti but on this one tagged "Bad News", He featured Boss La and it is something we recommend you check out.
"Bad News" is a brand new afro-pop single by Salone Cool J that explains the badness of our society although not encouraging but it is what it is and it was produced by the new guy Don Creek.
Both super stars went hard on a masterpiece by Don Creek and this is Currently the new trend. Enjoy and Share. BAD NEWS!!!
Thank you for checking out Sierraloaded' top 10 Sierra Leone songs for June 2022 that were downloaded by you the fans. Keep streaming and downloading from Sierraloaded to keep your favorite artiste on the chart.