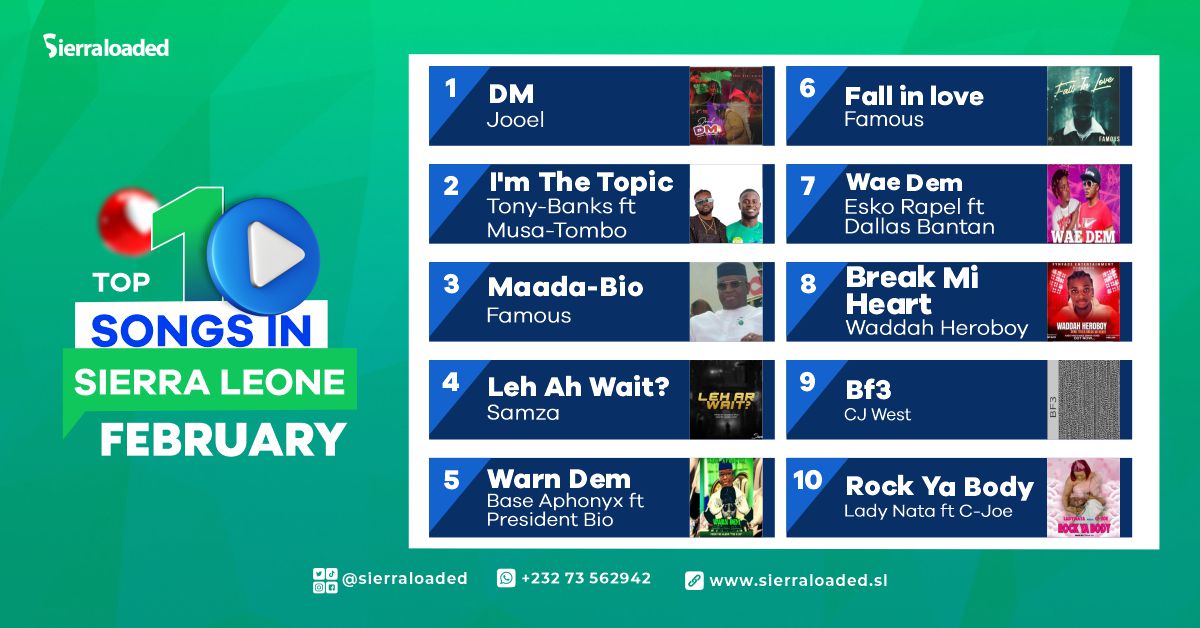 Top 10 Songs in Sierra Leone For February 2023
Happy February, Sierraloadites!
A new month has arrived, but it's last 28 days in Febraury have paved the way for fresh sounds on the Sierra Leone music scene. New songs have started dominating playlists, and certain songs continue to dominate music charts.
Entertainers and musicians have worked together to create soundtracks to fuel the waves.
To act as a timestamp and provide props to the due date, Sierraloaded has put together a list of its top February 2023 released songs, based on metrics collected on its website at Sierraloaded Ranked, Views, Streams, and Downloads.
Below are the top songs released so far in January 2023.
10. Lady Nata feat C-Joe – Rock Ya Body – (118 Downloads)
Aminata Tejan Mansaray, better known by her stage name Lady Nata, is a multi-talented female entertainer and a former Housemates Salone season 3 contestant. Together with CJoe, they have released their anticipated track "Rock Ya Body."
During the Housemates television program, Lady Nata was regarded as one of the sharpest women. When she eventually exposed the truth, the actions she made throughout the game with Nohmi George and Julie were astonishing.
In spite of this, she is renowned for her enticing entertaining acts outside of the Housemate show. With this new song she co-produced with C-Joe, Lady Nata has demonstrated her versatility.
You can help to decide where Lady Nata's genuine talent resides, but there has been considerable debate about it. Take out your earbuds and start streaming and downloading. Let's discuss what is your take to the arguments ongoing.
9. CJ West – BF3 – (118 Downloads)
One of Sierra Leone's unimaginably superb  rapper, songwriter CJ West has on his 1995 album dedicated a diss song to his rival Meed T.
It is irresistible when your ears filled with the melodies of good sounds. The end result gets your ear itchy to have more of the same sound.
CJ West dropped this diss track to respond to his rival in the entertainment industry Meed T.  Last year CJ West was featured in one of Ambassador Kao's cypher activities among other young celebrities in the entertainment sector.
Ahead of his album titled "1995" which CJ West on an interview revealed that it is dropping anytime from now, CJ West has unveiled the official prelude to the album with the song track "BF3."
On this song, CJ West expressed his rap skills which he proudly bragged about and went on to hit so hard on Meed T.
As the saying goes 'When the music is nice play it twice,' we bring you one of CJ West's best tracks on his 1995 album titled "BF3." This I assure you will have to play many times.
Go check this diss out and tell us your thoughts…
8. Waddah Heroboy – Break Mi Heart – (215 Downloads)
Hakim Kamara, better known by his stage as Waddah Heroboy, a recently signed singer with Fyn Face Entertainment, debuted his debut song, "Break Mi Heart," today, Sunday, February 5, 2023.
On Saturday, February 4, 2023, Fyn Face Entertainment unveiled to the fans their newly purchased merchandise valued Le60 million.
Waddah Heroboy's unveiling ceremony, or "Pull Na Doe," was outstanding because a large number of other Sierra Leonean entertainment industry figures attended along with the signing fee and the programs.
Chris Cookson, also known as FynFace, the CEO of Fynface Entertainment, announced during the ceremony that the newly signed artist's debut single would be released on Sunday 5 February and here it is.
The Le60 million spent on Waddah Heroboy was worth it for this song. Go streaming and downloading the song and please don't forget to follow the celebrity and the label on all its social media platforms.
7. Esko Rapel – Wae Dem Ft. Dallas Bantan – (228 Downloads)

Sierra Leone's King of dancehall Mohamed Lamrana Bah, better known by his stage name Dallas Bantan has on a recent dancehall track battled with his rival Esko Rapel on a song titled "Wae Dem."
Notwithstanding the fact that the incumbent has always been protective of his crown in the industry, Northwest dancehall superstar who is in the journey to compete with the King of dancehall finally teamed up together to produced this bangaaa sounds for the love of their fans.
Two Lion kings ruling the same jungle has always been a big challenge as both will give their all to protect an prove that he truly deserves the crown.
On this dancehall track, both Esko Rapel and Dallas Bantan despite being over protective of their position in the industry decided to dish out this meal to Sierra Leoneans and the clubs.
Stream, download and let us know who nailed the beat between the two Kings.
6. Famous – Fall in love – (322 Downloads)

Famous, a house-hold name and one of the most respected in the entertainment industry, retained his name on this song "Fall in Love."
The talented musician and lyricist known for creating nonstop waves in the entertainment sector has once again taken fans by surprise with the release of the seductive and ear-pleasing song "Fall in Love."
Famous in the song is bewildered as to why he doesn't pay much attention to his everyday plans because he is so preoccupied with his fiancée and instead constantly craves her.
It's been said that unless you experience true love, you won't understand the power of love. It appears that Famous has finally found love with this song after it has made waves online.
My comrade, you are on the same course as Famous when you start doing things to yourself that are unthinkable for the benefit of the person you find happiness with.
Go online, download music, and enjoy songs that describe how true love feels.
5. Base Aphonyx ft President Bio – Warn Dem – (415 Downloads)
Amidst controversy and skepticism about the whereabouts of the ruling party (SLPP) as of June 2023, former All-Stars President Base Aphonix endorses the current President of the Republic of Sierra Leone, Maada Bio in his long awaited album titled 'Tok En Do.'
With the celebrity's fans eagerly awaiting the album, Base Aphonyx released one of his songs on the trend called "Warn Dem."
As the former president of the All Stars Union of Artists, Base Aphonyx, there have been speculations about being on the verge of reclaiming the throne, but these rumors are yet to be proven.
According to one of his posts, Base Aphonyx recently revealed that the "Warn Dem" song was a birthday present for his fans, and of course for his unwavering loyalty and support to the PAOPA government and Maada Bio.
This song is a must to listen as Base Aphonyx expressed how his love for Maada Bio can melt all of Mount Everest.
4. Samza – Leh Ah Wait? – (423 Downloads)

Samza has demonstrated and dispelled rumors that he cannot still produce quality music without Kracktwist, despite the controversies surrounding their brotherhood and prior collaboration with him.
As a result, Frank Samza Serry popular known as Samza has released one of his long awaited Album songs titled "Leh ah wait?"
Samza who is known by his catchphrase "hmmmmba" was silent in 2022 as a result of this new Album titled "On God." This new year, 2023, he resurfaced with this Bangaa that is going viral on social media platforms.
This 'On God' album entails 14 ear soothing tracks for the loving ears of Sierra Leoneans. Samza went the length of the world to feature top most Sierra Leonean celebrities such as Mackmuday, Terror D, Jooel, Menace De General, Mello seven etc.
Despite the controversy surrounding their brotherhood and previous partnership with Kracktwist, Samza has proven and set records straight that he can still hit the industry with good sounds without Kracktwist.
Go stream this songs and let us know your take over Samza going on solo or to make amends with Kracktwist. Don't forget to follow the act in all his social media platforms.
3. Famous-Maada-Bio – (568 Downloads)
As the 2023 multi-tier general elections are just barely four months to go, prominent Sierra Leonean celebrity Frederick Peters has endorsed Julius Maada Bio for re-election as Sierra Leone's president in the upcoming general elections.
Famous made the statement while attending the 13th National Delegates Conference of the ruling Sierra Leone People's Party (SLPP), at the Bintumani Conference Center in Freetown.
At the Bintumani Conference Famous on the stage vividly expressed his loyalty to Maada while he sang a song with the lyrics "2023 we dae Vote for Maada Bio…".
Diving deep into the song's lyrics, Famous  acknowledged president's Bio's sacrifices to the nation  and the developmental projects he has brought to the country, especially in the field of education, Freetown International Airport terminal amongst others.
Go streaming and downloading and let us know your take on the song.
2. Tony-Banks-I'm-The-Topic-Ft-Musa-Tombo – (2,397 Downloads)
Leone Stars Striker, Musa Noah Kamara popularly known as Musa Tombo makes his musical debut alongside Tony Banks in the remix of the song "Topic".
The song which is now causing frenzy among fans on social media centered around Musa Tombo who has been in the news lately.
Perhaps, Musa has a career beyond the football pitch? Put on your ear pods and be the judge!
1. Jooel – DM – (61,573 Downloads)
From the look of things and the good sounds we have heard in this year, with consistency in the entertainment sector, 2023 is undoubtedly a year of success for many entertainers.
Among them is prominent Joel Kargbo stage name Jooel who few days ago released his first official single for 2023 titled "DM."
DM as many know this, is a social media word that means Direct Message. This is an interesting banger with great story worth checking out.
On this hit single, Jooel with his skills in music tells a perfect story mixed with Afro Pop. This incredible sounds was produced by Jassie Jossy.
With so much preparations and superb freestyles dropped on this song, earned Jooel Sierraloaded's top song act for February 2023.
Congratulations Team Pack Style!!!!!