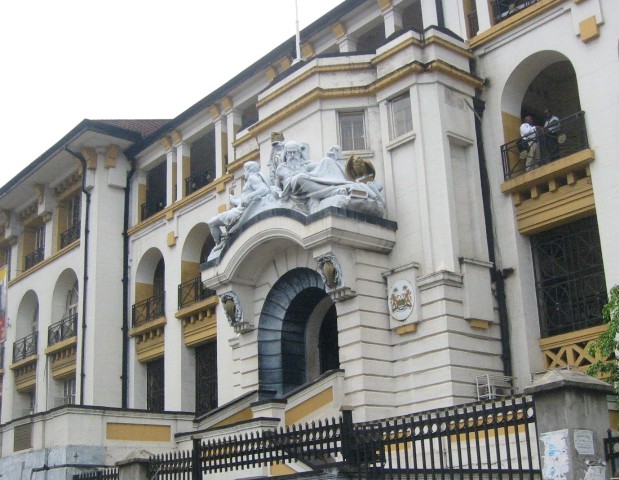 International Paper Whips Sierra Leone's Alleged Rogue Judge Halloway
Judge publicly humiliated by ACC for corruption asks for fine to be reduced, but IMC stands by its decision.
8th June 2015: The Independent Media Commission stands by its decision  taken four months ago to fine the Publisher of the INDEPENDENT OBSERVER , Mr. Jonathan Leigh , a total of Le 16,500,000 (Sixteen Million, Five Hundred Thousand Leones) for defaming colleague journalists Dr. Sylvia Blyden of Awareness Times and Rev. Leeroy Wilfred Kabs-Kanu of Cocorioko, who is also the country's Minister Plenipotentiary to the United Nations.
In a public release today, the IMC stated that its fine, along with others imposed on newspapers, were in conformity with law.
Last Friday, a High Court Judge, Justice Allan Halloway, who was dragged out of his chambers at the Law Courts of Sierra Leone in 2009 and shamefully frogmarched to the Anti-Corruption Commission (ACC) where he was indicted for soliciting and receiving bribes, ruled that the fines imposed on Mr. Leigh be reduced to one million leones for each of the three counts for which he was found guilty of character-assassination, though the judge himself conceded in his controversial ruling that the IMC followed the correct procedures in dealing with the matter  and did not violate the principles of natural justice in handling the matter. The judge also ruled that the same be done to other journalists who have been fined by the IMC.
According to today's edition of the AWARENESS TIMES  newspaper, when Judge Halloway was arrested for corruption in 2009, Mr. Jonathan Leigh  was one of the journalists who vigorously supported him. This leaves many questions hanging about whether Mr. Halloway was bribed to render such an outrageous ruling.
Awareness Times which has apparently seen the ruling wrote  that the infamous judge said fines should not be excessive "to ensure local papers are not forced to close when they grievously malign poor citizens or when they create conditions of anarchy". This means that the maligned judge placed more emphasis on the survival of errant newspapers than on the natural justice of punishing offenders for their crimes.
The most important thing about the ruling, though, is that Jonathan Leigh was not exonerated. The fact still stands that he was guilty of falsely seeking to malign the good names of Dr. Blyden and Rev. Kabs-Kanu as the judge himself conceded that the IMC did not violate the principles of natural justice.