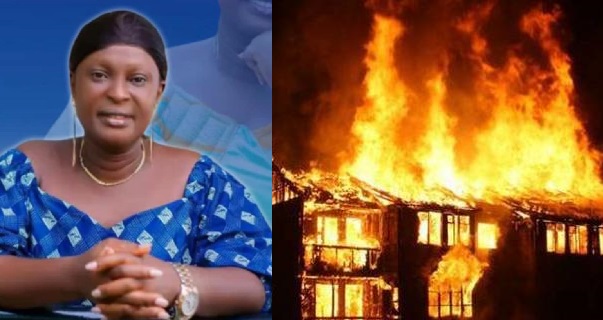 Njala University Lecturer And His Wife Burnt to Death in House Fire
Dr. Jesse Nyandebo a Lecturer at the Animal Science Department, Njala University, and his wife, Abigail Muana a Nurse were reported to have died after a fire engulfed their residence in Bo on Monday 6th June 2022.
The incident according to Henry Maada Sam brother to Dr. Nyandebo's wife who managed to speak to Politico in a grieving mood said they had just celebrated his sister's birthday the previous day.
He said on that fateful night, he left his sister sleeping and went to join his colleagues at a study camp at a time the sky was already cloudy. He said it was his in-law who even rushed him out of the house so he could reach before the rains.
He added that he couldn't reach his destination before it started raining and had to wait, only for him to receive a distress call from home. "I received a phone call from Abigail's daughter, Patience for me to come to the house as fire has engulfed the house. Before I left the house my sister was sleeping as she was unwell and I saw her husband at the gate while I was going for studies.
Abigail's husband even told me to run as it wants to rain," he said, adding that on his arrival, he met a confused crowd of neighbours outside the gate trying to force open the door to apartment the blazing abode.
He said they were unable to open the house but a neighbor was able to see from the outside, two people lying on the floor below the bed engulfed in flames.
He said the Fire Force later the issue came, and put out the fire. The badly burnt remains of the couple were then taken away.