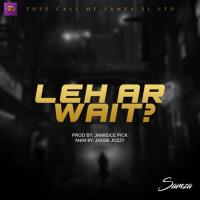 Samza – Leh Ah Wait?
Samza has demonstrated and dispelled rumors that he cannot still produce quality music without Kracktwist, despite the controversies surrounding their brotherhood and prior collaboration with him.
As a result, Frank Samza Serry popular known as Samza has released one of his long awaited Album songs titled "Leh ah wait?"
Samza who is known by his catchphrase "hmmmmba" was silent in 2022 as a result of this new Album titled "On God." This new year, 2023, he resurfaced with this Bangaa that is going viral on social media platforms.
This 'On God' album entails 14 ear soothing tracks for the loving ears of Sierra Leoneans. Samza went the length of the world to feature top most Sierra Leonean celebrities such as Mackmuday, Terror D, Jooel, Menace De General, Mello seven etc.
Despite the controversy surrounding their brotherhood and previous partnership with Kracktwist, Samza has proven and set records straight that he can still hit the industry with good sounds without Kracktwist.
Go stream this songs and let us know your take over Samza going on solo or to make amends with Kracktwist. Don't forget to follow the act in all his social media platforms.
Listen Below:-