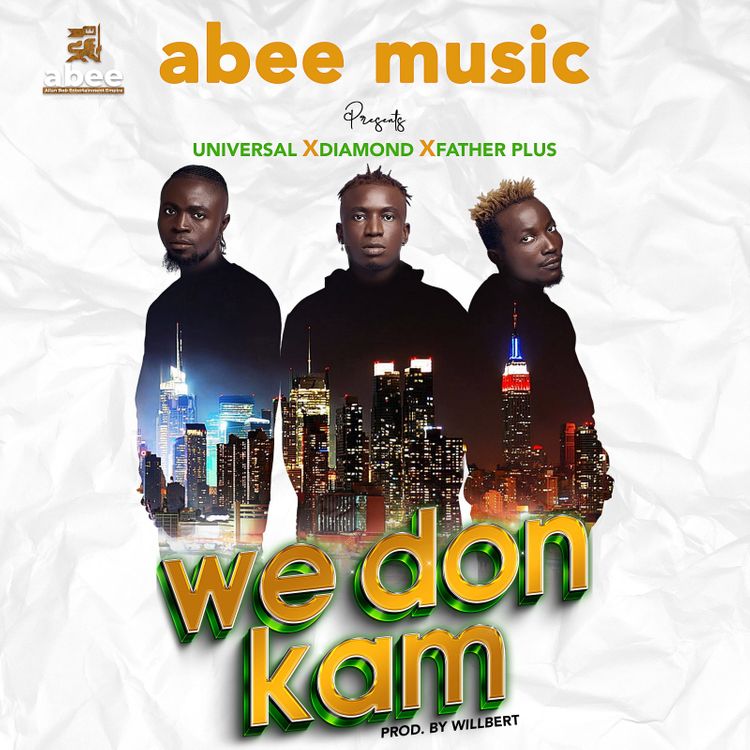 Universal x Diamond x Father Plus – We Don Kam
The next Sierra Leone's epicenter of turning entertainers dreams into reality 𝐀𝐥𝐥𝐚𝐧 𝐁𝐨𝐛 𝐄𝐧𝐭𝐞𝐫𝐭𝐚𝐢𝐧𝐦𝐞𝐧𝐭 𝐄𝐦𝐩𝐢𝐫𝐞 – 𝐀𝐁𝐄𝐄 releases their first single dubbed "𝗪𝗲 𝗗𝗼𝗻 𝗞𝗮𝗺".
"𝗪𝗲 𝗗𝗼𝗻 𝗞𝗮𝗺" is a tuneful song that has the recent trending ear listening genre known as the Amapiano local South African trend to an international phenomenon and this song was engineered by 𝗪𝗶𝗹𝗯𝗲𝗿𝘁 and recorded by 3 rising stars (𝗨𝗻𝗶𝘃𝗲𝗿𝘀𝗮𝗹, 𝗗𝗶𝗮𝗺𝗼𝗻𝗱 & 𝗙𝗮𝘁𝗵𝗲𝗿 𝗣𝗹𝘂𝘀) straight outta from the 𝗔𝗹𝗹𝗮𝗻 𝗕𝗼𝗯 𝗘𝗻𝘁𝗲𝗿𝘁𝗮𝗶𝗻𝗺𝗲𝗻𝘁 𝗘𝗺𝗽𝗶𝗿𝗲.
All three of them have a immense vocals on this song with good control and projection.
Their delivery is fantastic which really separates them and makes them stand out and unmatched from their peers.
Listen Below:-