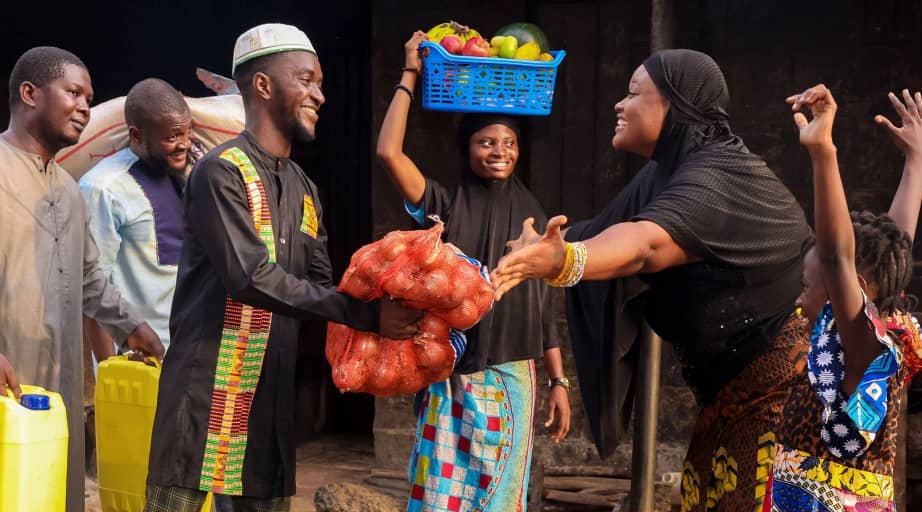 Orange Sierra Leone Provides Sunakati For Muslims at Dwarzack
Orange Sierra Leone, one of the leading Telecommunications companies in Sierra Leone has on 5th April 2022, provided Sunakati package for over 500 Muslims who are observing the month of Ramadan in the Dwarzack community.
The Sunakati feeding is part of Orange SL's ''Love Tight campaign'' that is being carried out to reach out to thousands of Muslims in most parts of the country and to share love and Islamic teachings with them during this holy month of Ramadan.
More than five hundred people were fed at Dwarzack community, west of Freetown.   The food was prepared by Orange staff and the Dwarzack community women.
The orange team had been stationed at Dwarzack since the morning hours as they were preparing the ground and to organize the community people to honor the afternoon and evening prayers.
The event was organized by local religious leaders to teach community people about fasting and religious principles.
On the other side as well, Orange services; like ''SIM card activation'' for Orange money and other services were also done at their Mobile Kiosk; as a way of bringing the services of the company closer to people.
Food was then served at sunset to mark the end of the fasting day, bringing community people together to eat side by side with each other, promoting the spirit of love and generosity.    Dwarzack was among the many auspicious communities that benefited from the orange Sunakati last year.  This year, Orange has also promised to reach out to more communities across the country.
Mohamed Kallon, a senior staff of Orange Mibile Telecommunication said Orange SL recognized that, in sharing which he said they had always been demonstrating. He said throughout the 'Love Tight promotion,' Orange Money will be giving prizes that would worth of food items to at least ten winners daily; whiles  Orange SL also will do the same.