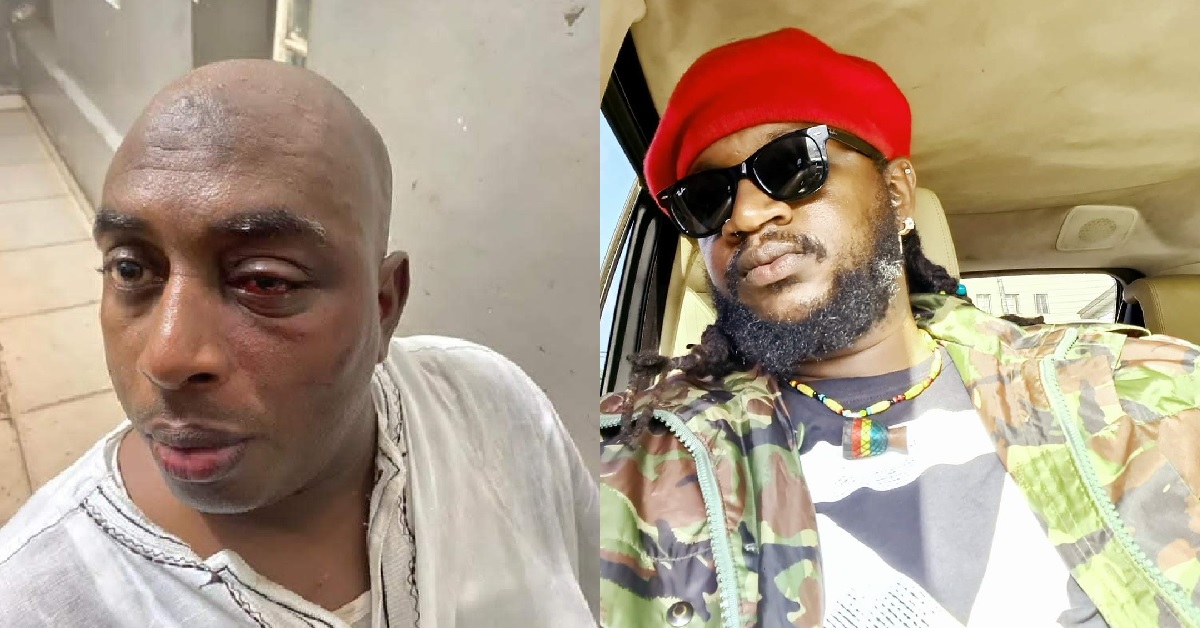 Osman Jalloh, Business Man Who Accused Boss La of Robbery And Assault Implicated in 419 Scam
Investigation mounted by Times SL Newspaper has uncovered that one Osman Jalloh aka OJ is alleged to have duped a British citizen huge amount of money.
Jalloh who carries two passports with one as a Guinean and the other as a Sierra Leonean has reportedly been declared wanted by foreign investors as a big-time scammer.
Times SL Newspaper uncovered that Jalloh who is currently in the country, has many cases outside Sierra Leone and therefore has been among the list of scammers and 419ners wanted abroad.
According to investigation, this issue came to the fore when Jalloh had a fracas with one Junior and one of Sierra Leone's prominent musical stars, LAJ, at the Swiss Hotel along Spur Road on Friday 16th July 2021.
It was revealed that the fracas started when Junior wanted to enter the Swiss Hotel with his vehicle, in which LAJ was, but at the entrance was parked the vehicle of Osman Jalloh.
Upon questioning that OJ park his vehicle properly and give access to others coming into the hotel by Junior, OJ then refused to remove and park his vehicle and an argument ensued between both OJ and Junior. After waiting and observing the argument, LAJ is said to have alighted Junior's vehicle and told OJ to give way for guests at the hotel to enter, stressing that OJ is not a guest there, whilst he (LAJ) is a guest in the said hotel. It was disclosed that another argument developed between LAJ and OJ, whilst Junior reversed his vehicle and parked outside the hotel.
Speaking to Times SL Newspaper, Junior explained that he came to Sierra Leone with two investors who wanted to buy diamonds, disclosing that he facilitated the purchase of $50,000 USD. He furthered that within two hours of delivery of the said diamonds, whilst on his way home; his investors called him and asked him to return their cash, as the quantity of diamond bought was not commensurate to the price.
He furthered that he returned the $50,000 and collected the diamonds, which he later returned to the vendors. Junior said that being in a disappointed mood, his friend, LAJ, called and asked him to pick him up and take him to a party in town. On their return from the party, the unfortunate incident happened in front of the Swiss hotel that LAJ was staying.
He however explained that upon discovering that his investors had got in contact with OJ, he decided to alert them about the possibility of Osman Jalloh duping them, as he had done to one close partner of his Chris, a British citizen, who had sent him a picture of OJ and the passport he is using, requesting that his whereabouts be relayed to him, as he had been duped by OJ some huge amount of money.
Junior furthered that he then called his partner abroad on video call in the presence of his investors to let them know that the new guy they are dealing with, who has purported to have diamonds for sale whose account, he understood has been credited with the said money by these investors is a scammer and that they should be very careful.
Whilst engage in that conversation with the investors, some thugs of OJ entered the hotel with weapons (knives, cow horn and other implements) and attacked him and LAJ. He sustained injuries to his eye and stab wounds on his back and was bleeding. He then took cover from their assailants until he heard that the police had arrived.
Leaving the hotel for the Lumley Police Station, Junior said he noticed that his vehicle that was parked outside the hotel had been vandalised, allegedly by the thugs of OJ. They were all taken to Lumley Police Station, where LUC, Moijueh ordered for medical form to be given to OJ who had a slap mark on his face and that they should lock Junior and LAJ up, even while he was bleeding profusely from the injuries to his eye and back. They were all later taken to the CID.
At the CID, LUC Moijueh is said to have ordered that no medical paper be given to Junior, but looking at the condition of Junior, the officer at CID gave him a medical form, and he was taken to Connaught Hospital, where he was admitted.
Junior furthered that whilst at the hospital, he later learnt that his friend, LAJ, had been taken to the OSD Headquarters at Kingharman Road area, known as Bengazi. He stressed that amidst all the fracas that took place, LAJ was not a party, and that he only spoke to OJ after he realised that he was reluctant to remove his vehicle from the entrance of the hotel.
What is baffling about all this is the apparent failure of the police to arrest the alleged perpetrator who happens to be the brother of senior government official, who is alleged to have ordered his thugs to attack Junior and LAJ, and instead arrested both LAJ and Junior, who were attacked.
However, all efforts by Times SL Newspaper to get Osman Jalloh's side of the story proved futile.