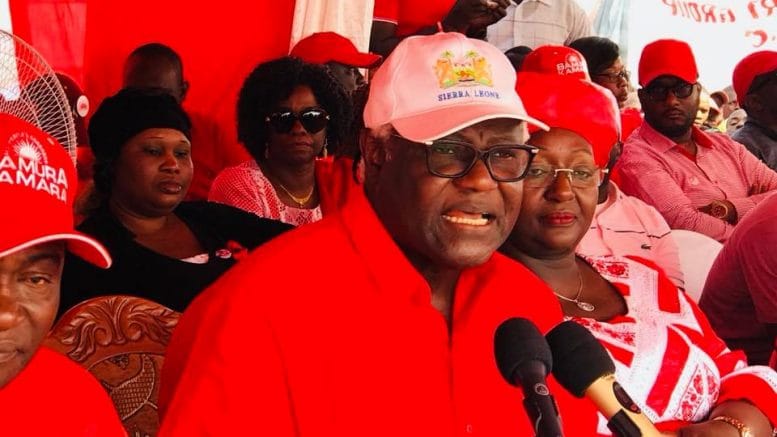 APC National Youth Congress Extols Former President Koroma Following Decision to Exit the Political Stage
The National Youth Congress of the main opposition All Peoples Congrss (APC) party has today issued a press release stating their initial reaction to their Chairman and Leader, Ernest Bai Koroma's decision to exit the political stage and his decision not to contest for any position in the party's next national delegates conference.
According to NYC, they have carefully studied the press release dated 13th April 2022 coming from the Office of the Former President, stating his decision to exit the political stage and strong assurance of not contesting for any position.
The National Youth Congress commended the former president's commitment to peace, security and promotion of democracy and good governance, which they noted that formed essential features of his distinguished leadership throughout his tenure as Chairman and Leader of the APC and as President of Sierra Leone.
"We further hereby state that his decision has not come as a surprise as it has always indicated that his departure his imminent," they stated, adding that, "As the wing that host hosts the present and future determination and sustainable growth of the party, we wish to endorse, support and congratulate the former President for the brave decision."
NYC noted that whilst the entire nation received the message with sad and mixed feelings they have received the decision as a comfort and extension of the former president long standing passion for the growth of youth people and the APC.
"We are always inspired and would remained motivated by his remarkable legacies including the transfer of knowledge, wisdom and courage that assures our party and the country of a peaceful and safe transition," they stated.
NYC further assured their supporters that nothing is there to worry about as the former president had trained and prepared them for this moment.
"President Koroma has done his part, the onus is now on us to take forward the outstanding legacy of peace, national unity, and nation building," they stated.
"We the NYC are ready 'Red and Ready' to live up to this great task of bringing the APC back to power in 2023."
The youth congress further expressed their appreciation to the outgoing Chairman and Leader of the party and joined him in appealing to the entire membership of the party to embrace the potential of a new leadership and tranquil atmosphere for a peaceful and enduring transition.
"The young people of the party shall translate and explain this decision to our numerous members and for a better appreciation of its import in ensuring our APC victory come 2023," NYC stated.