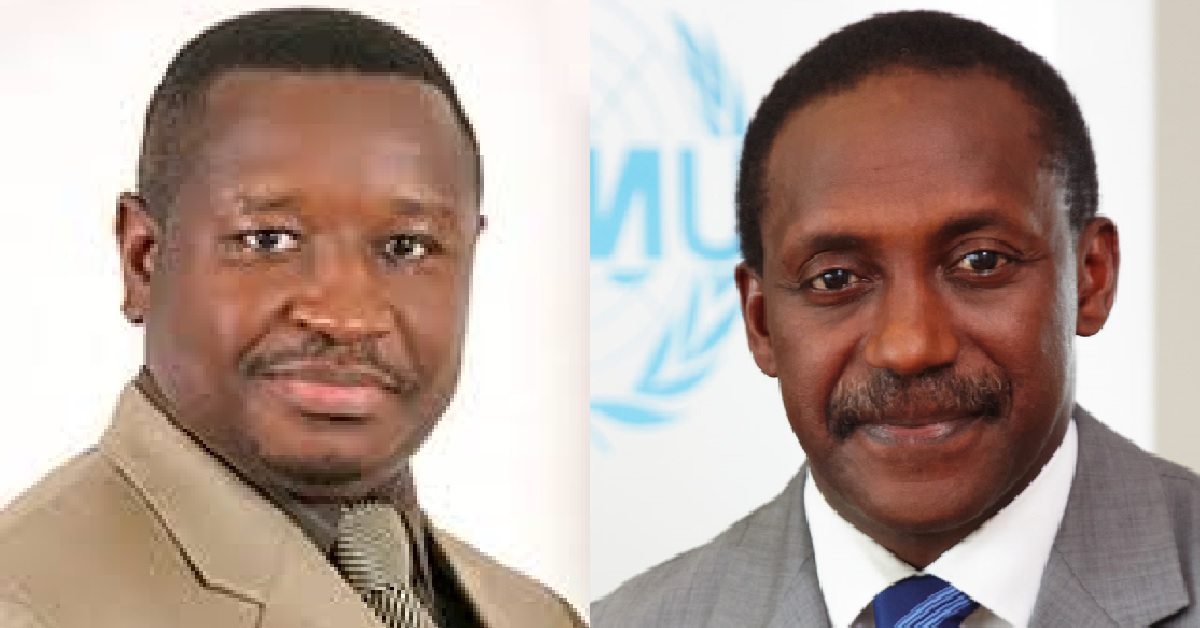 OPINION: President Bio; The Man With a Golden Heart!
After the SLPP first elected Brig. (Rtd) Julius Maada Bio as their Presidential candidate in July 2011 at the Miatta Conference Centre in Freetown, there was no doubt that Bio was going to choose Alhaji Usman Boie Kamara as his Running Mate. Usu Boie (as he was fondly called) came second in the heavily-fought SLPP flag bearer contest featuring nineteen candidates.
Immediately after the 2011 SLPP flag bearer contest, pressure mounted on Maada Bio to immediately appoint Usu Boie as his Running Mate. But the question Maada Bio kept on asking some of us is: Does Usu Boie want it?
Several efforts were made by some prominent SLPP supporters to persuade Usu Boie to accept the post of Running Mate to Maada Bio. Newspaper reports at the time indicate that even Maada Bio tried relentlessly to persuade Usu Boie to accept to run with him in the 2012 elections.
I recall a meeting I had with former President Ahmad Tejan Kabbah at the time. I begged him to talk to Usu Boie to accept the post of Running Mate to Maada Bio. Pa Kabbah invited Usu Boie and I to his private residence at Juba and told Usu Boie what I had said to him. Usu Boie said, "Uncle Tejan, "Ar Hole Word". It came as a big surprise to me when Usu Boie decided to openly declare his support for the APC party's Presidential candidate, Dr. Ernest Bai Koroma.
Before then, Usu Boie had stopped talking to me. In fact, he did not talk to me again after he learnt that Maada Bio attended my father's funeral in Manjoro together with Hon. Dickson Rogers and Dr. Abass Bundu.
Usu Boie was later appointed Minister of Trade and Industry after President Ernest Bai Koroma's reelection in 2012.
Dr. Kandeh Yumkella
Prior to the 2018 Presidential elections, several people declared their intention to run for the post of flag bearer of the SLPP. Every attempt made to endorse the sole candidature of Maada Bio (the party's 2012 Presidential candidate) for the 2018 Presidential election proved abortive.
By then, reports had emerged that Dr. Kandeh Yumkella was also interested in the post of SLPP flag bearer. I understand that he was under pressure from some family members to back Bio's bid. When he finally declared his intention to run for the post of flag bearer of the SLPP questions about his membership of the party made screaming headlines in newspapers that were firmly supporting Bio's bid (Global Times, New Storm, News24 and the Independent Observer).
Dr. Kandeh Yumkella decided to dramatically leave the SLPP to join a breakaway faction from the SLPP called NGC. He took along with him some prominent and well-known SLPP supporters including Dr. Dennis Bright.
Dr. Bright had served in the Kabbah led SLPP government as Minister of Youth Affairs. He was, undoubtedly, one of the brilliant Ministers in Kabbah's government.
Dr. Kandeh Yumkella has an impressive SLPP pedigree. His late father was one of the architects of the SLPP. The SLPP is his family party. He is one of the outstanding Sierra Leoneans on the global stage.
Even before he left the SLPP, many people had seen Dr. Yumkella as a possible Running Mate to Julius Maada Bio in 2018. His decision to leave the SLPP was a major political misjudgment. Truth to be told, he is an outspoken Member of Parliament and, on many occasions, he has been very measured in his criticisms of the Bio government.
It was the late Thaimu Bangura of PDP Sorbeh who once noted that the easiest way to become President of Sierra Leone is through one of the two leading political parties in the country, the APC and the SLPP.
It appears as if the APC no longer have confidence in Dr. Samura Kamara's chances of defeating President Julius Maada Bio in 2023. Report in the "Awoko Newspaper" last week indicates that, a coalition of political parties (including the APC) is planning to put up a single Presidential candidate against the SLPP in the 2023 elections. Many of us are wondering how that is possible when you have people like Charles Margai, Dr. Kandeh Yumkella, Dr. Samura Kamara, Dr. Richard Konteh, VP Alhaji Chief Sam Sumana all fighting for the same position.
KKY's Return To The SLPP
When the fight for the flag bearer ship of the SLPP had intensified in 2016/2017, Maada Bio made several peace overtures to some of the leading aspirants for the post of SLPP flag bearer including Dr. Kandeh Yumkella. Several meetings were planned between the two of them both here in Freetown and in London but they were all cancelled at the eleventh hour by Dr. Kandeh Yumkella. He was playing "Mister Hard To Get".
Last week, President Bio took the bull by the horns and visited Dr. Kandeh Yumkella's home town of Kychom in the Samu Chiefdom, Kambia district and asked him to return to his family party. It is always difficult to say no to the President.
In a social media post, Dr. Kandeh Yumkella wrote, "Concerning his (President Bio's) specific request and Bora, I thanked him for the gesture and respect and "AHH HOLE WORD". Many of Dr. Yumkella's supporters are asking a very important question: "On what basis is Dr. Yumkella returning to the SLPP? Will the SLPP hand over the baton to him on a silver platter in 2028?
If Dr. Yumkella's life-long ambition is to become President of Sierra Leone, he must immediately accept the offer of returning to the SLPP now. If he fails to return to the SLPP before the 2023 elections, his chances of one day becoming President of Sierra Leone are as good as dead in the water.
President Bio's decision to ask Dr. Kandeh Yumkella to return to the SLPP shows that he is a man with a golden heart. It also shows that President Bio has no hard feelings and his heart is as pure as gold.
God bless you, President Bio!