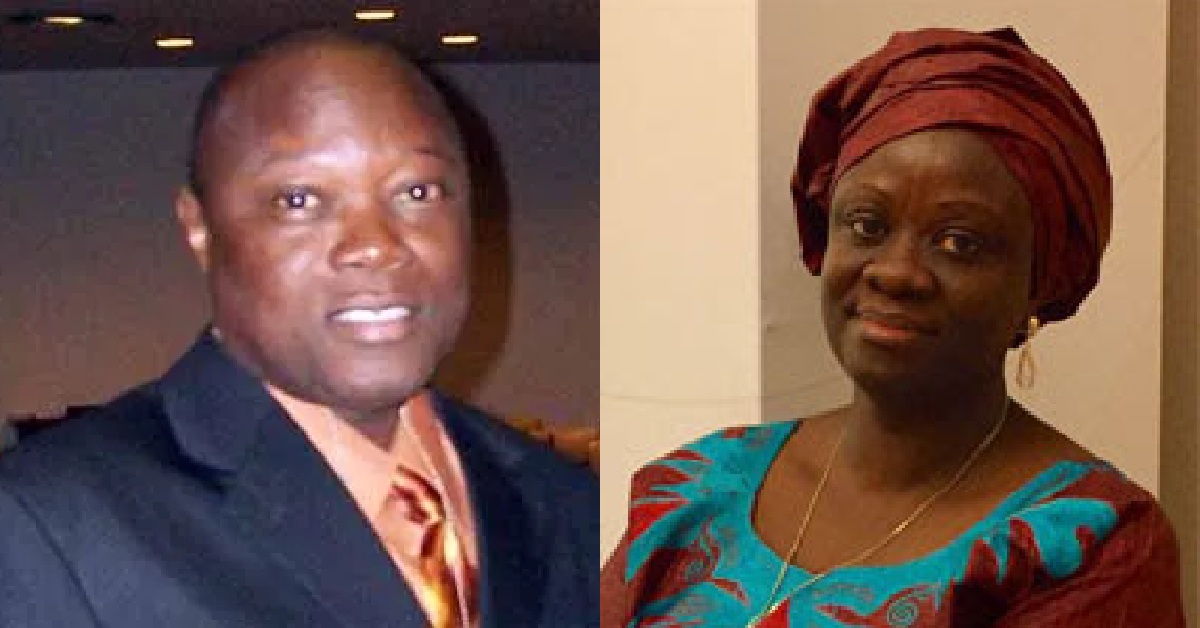 "Slyvia Blyden is a Poisonous Rattle Snake."David Tam Baryoh Blasts Sylvia Blyden
Sierra Leonean Journalist, David Tam-Baryoh has written a letter bombarded with complaints to Sylvia Blyden,responding to her question of "Who is afraid of Tam-Baryoh". The Monologue Fame Journalist, wrote this to Sylvia Blyden:
Hello Sylvia,
Lately, I hate to write for nothing!
If you are in my situation where half your writing life has been based on research, projects and professionally solicited write-ups that are always paid for by either International Bodies or interested business and non business organizations such as the African Minerals-Sierra Leone Limited, Anti Corruption commissions, the BBC, the News Time Africa and the Zongo Giwa magazines; or rather, if you have just finished a 200-page document for a higher academic degree, you certainly would be so selfish not to accept writing for writing sake.
Over the last few months, this is how selfish I have been: refusing to write for nothing, even if it requires my personal opinion on national issues relating to my beautiful country, Sierra Leone. Isn't this selfish of me?
Nevertheless, a telephone call from the International Editor and Manager of the News Time Africa magazine, Ahmed Kamara, has made me changed my mind. Despite my eleven year- sojourn with the most powerful microphone in the broadcast history of my country, under the guise of a Good Governance Radio Programme called 'Monologue', I certainly have seen the need to pick up my pen again. Without putting it on, as the Americans would describe self-praise, many who have hitherto savored the comfort and proceeds from the ink of my pen have told me that I write better than I talk and that I have used the microphone to be lazy over the last few years.
Well, as William Shakespeare would say; "the eye sees not itself, but by reflection" and they, my mirrors have told me that they have been deprived of my contributions to the literary community of Sierra Leone and beyond. I have decided to write and it is to you, young lady that I will address this letter.
You are aware that I have many friends than enemies in our beloved country. I cannot certainly say the same about you. I have been told that you are very angry with me because I disagree with you, when you maintained that "every time someone is accused of rape, s/he is guilty until the courts prove him or her otherwise". I believe on the contrary, that universal law of justice demands that every accused person is presumed innocent until the courts prove otherwise. This disagreement has made you enraged to ask: "Who is afraid of Tam-Baryoh". To answer this question, I am not feared in my country. Rather, I am loved by many; sometimes even those who do not appreciate my side and way of rationalizing issues do love and appreciate me.
In a thriving democracy as ours, no one knows it all, not even the president, let alone you. On the specific issue of rape, my few hour-lessons in female psychology have taught me to understand that people are likely to defend a side of event with a vivid historical reality of their own lives which permeates their childhood reality. They would rather look at issues from the vantage point of what they may have been victim(s).
This is understandable. In fact, there is this story of a young lady who had been raped by her uncle. The rape incident resulted in a boy-child. This lady, claiming closer relationship with state house in Freetown, throughout her life refuses to accept that child and therefore relegated the upbringing of the boy to her mother in Europe. She has vowed never to accept this offspring of rape as her child. She lives in Sierra Leone as a government functionary and her mother lives with the child in Europe as a retired civil servant. To such a person Madam, and understandably so, anything called rape, true or false, will enrage her.
Madam Sylvia, it is my belief, and perhaps I might be speaking the minds of many, that every time you make attempt to defend what you believe in, you do so wrongly that it affects even the Presidency of my friend Ernest Bai Koroma.And having watched you from a distance, and of course after listening to so many people, it is my confirmed belief that the presidency of my country is being held hostage by you: one single less important person called Sylvia Olayinka Blyden… you, the purported Special Executive Assistant (SEA), without a job description to my President. You have told the whole world that your appointment is a cabinet position and that you are higher in rank to all deputy ministers and even some of the country's diplomats. This assertion of yours can never be substantiated by the national constitution (1991) nor has the President agreed with you. He has just laughed off your empty bluff. Many senior party members and close associates of the President have told him that he was dealing with a poisonous rattle snake in the person of you; the new found friend who had hitherto not only written off the first gentleman of the republic but had made national and international mockery of him.
To know you better, some of us had to get closer to you with a view to ascertain what the greater majority of my country's thinking cadre of persons actually saw you to be and mean. It's been proven, that you have more enemies than friends in the entire society because of your excesses and over exuberance based on an accentuated self misplacement of purpose. If you were a prototype tool in Sigmund Freud's psychosocial lab, other than being kept in the honourable President's political power sitting room, you would have passed off for a psychopath. What are the reasons?
Well, my sister, the government, as it stands at the moment, has no more national secrets. Those who understand the sane workings of government say that since the start of the President's second term of leadership, everything has been reduced to Face Book governance. People now call this hitherto serious government as a Face Book and internet administration.
The government, thanks to you, is running like a dismembered football team; the government of Sierra Leone now is commented upon, by you as if it were a game between Arsenal and Man United football club of the UK.
The President leaves Freetown for China or New York for business or the General UN Assembly respectively; but every where the aircraft stops you announce on Face Book with all its insecurity attendance, functionary issues and you act like a small girl in a swimming pool of kittens. Being closer to the President, you announce to the world without proof that ministers are corrupt, so the public believes that yes, it is the president who has asked you to tell the unsuspecting public that his ministers are all corrupt. You say yours is of a cabinet rank and closer to the president, so you write unsavory things against the ministers and the honourable vice president, and yes, because you say your boss approves of whatever you do, everybody believes that you are not only right but yes, that this is what the president thinks of his deputy. So you see how and why I say the Presidency has never been the same since you came too close?
You want more proof sister?
Before you arrived at the palace, the media unit was a saintly unity. The presidency was adequately covered in the press. Both the local and international media knew more about positive and development oriented happenings at state house; at least from the more than a dozen trained personnel who have now sheathed their pens and left everything to you- the Deep SEA. Not only that "less" is being heard and reported today about the president (save for what you post on self-set up face book of nonexistent persons), but the truth is that the popularity and acceptance of the presidency has dropped to its lowest ebb among the general populace. You have today earned my president more enemies than friends in just less than a year. In African politics, my sister, it would seem that there are certain very good friends that must not be associated with in public. In this one, the President could have kept you in the sitting room, while going out to meet the public. I think my president has made a mistake, a grievous one indeed. The only good thing though is that he knows he's made a serious mistake. The question though, that many have been asking in relation to you my sister, is whether anyone has deciphered the inner and insidious intention(s) you may have nurtured while associating with the presidency. Answering this question answers the dangers now surrounding the presidency. Many national and state documents must have now developed wings. Eyes and ears must have seen and heard a few state secrets. So a tactical review role, with a view to planning a disengagement process of you the SEA, can now begin so as to save the sinking palace image. My sister, you asked whether I was a coward. Certainly you know I am not. I have decided to write so that I will not give you the undeserved popularity if I were to answer you, using the widest and most listened to programme in the country, the 'monologue'. Also, for me to use few minutes to handle you alone will be unfair to my esteemed listeners. It is my belief that you have lost something which you think you can find in asking the question: "Who is afraid of Tam-Baryoh?" I certainly will let you look for that answer somewhere else instead of me being party to your cheap game plan to look for an image that has long eluded you. Should you pass by in the APC public and you notice people quipping at you, it is because they have no regard for you and they think that they have been denied the reason why their president has ever encouraged you.
To the opposition, some of them call to ask me if ever I did not know you and I tell them that I had my reasons to find out for myself. Despite the rumours that a new political party is in the offing from within the SLPP, and that you are party to forming the bases of that arrangement, I still feel that most of them will not take you seriously as there is an image problem. And even though there is the political palour rumour, that you could be removed from the palace with an offer of a deputy diplomatic job, you still would not have had the best. You've burnt your bridges too fast and your star seems to derail in the train with too fast a losing-steam than a winner. If you were a local/national African team, you will be the Leone Stars of Sierra Leone; too difficult to support. But guess what, I support your effort to destroy yourself, but I will not throw the first pebble because when I make enemies with people I know, it will be forever. Poor Ernest Bai Koroma, he meant well but…