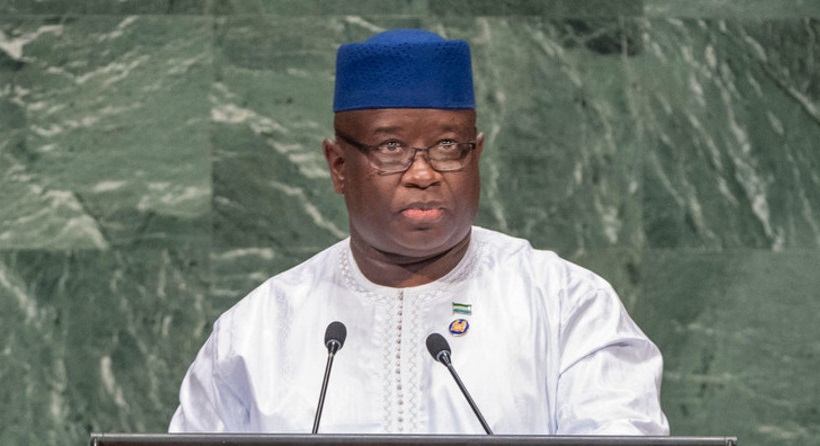 Human Rights Activist Campaigner, Mohamed Salieu Kamara Writes UN Secretary General Urging For Support to Fight Against Post Electoral Violence in Sierra Leone 
Human Rights Activist Campaigner, Mohamed Salieu Kamara has Written to the United Nations Secretary General, António Guterres, urging for the United Nations to stand together with Sierra Leone against political violence, and violence against women in elections In Sierra Leone. 
"3 Cedar Road  
Haringey  
London  
N17 8NB  
United Kingdom  
United Nations  
Headquarters 
46th St & 1st Ave 
New York 
NY 10017 
USA.  
23rd February 2022 
Dear António Guterres, Secretary-General of the United Nations, 
Complaints on Post-Electoral Violence in Sierra Leone 
Today, I write nearly an identical letter on the very same topic 'Political Violence' in 2018, when the then candidate Julius Maada Bio's campaign signs were vandalised. I condemned those acts of political violence in Sierra Leone. You can define political violence as "violent actions against others on the basis of differing political views."  It is wholly and entirely intolerable in a free society. Let us stand together against political violence, and violence against women in elections (VAWE). My last letter to the United Nations General Secretary General was during the 2018 general elections, almost exactly three and half years ago. 
It is our belief that violence against women in elections (VAWE) is a threat to the integrity of the electoral process and to the quality of democracy because it coercively excludes women from having a voice in the political life and governance of their country. Violence against women in elections (VAWE) is a violation of political and human rights and also a criminal or civil code violation that harms voters, candidates, election officials, activists and security and political professionals worldwide, occurring both local and international. I/we stand with women in politics in Sierra Leone! 
I am writing to respectfully urge you to consider issuing a public statement on post-electoral violence in Sierra Leone. Human Rights Watch has been closely following the situation in the country since the 2018 presidential elections. We are extremely concerned that Sierra Leone SLPP authorities are using criminal investigations as a political tool to accuse the opposition, without adequate justification, of the commission of crimes, while at the same time failing to adequately investigate credible allegations of serious human rights abuses in our nation. 
Local and International human rights groups told Human Rights Watch and Civil Society Groups that, according to the information we were able to gather on the investigations, government authorities have failed to adequately investigate the cases documented in these reports, despite the fact that victims had filed complaints in several of these cases. In response to allegations in the press that security forces had abused detainees in several demonstrations. The Attorney General said the claims were false because individuals who are deprived of their liberty are not mistreated in Sierra Leone. 
 According to official sources, out of hundred complaints of abuses by security forces during peaceful rallies in the city of Makeni, none were investigated for alleged mistreatment by security forces in Sierra Leone. There is adequate information to analyse these incidents and the context in which they took place, as well as allegations of other human rights violations related to the election that have not been addressed in this letter, such as political discrimination against workers in the public sector who voted for Dr Samura Kamara of the APC party. 
I am attaching the following reports produced by the EU Election Follow-Up Mission Statement Report of 2021. I call on the current members of the Security Council, Members of Parliament in Sierra Leone, the International Community and all candidates to publicly and unconditionally condemn all acts of political violence in Sierra Leone. In light of the serious allegations of abuses documented by local and International human rights organisations, I respectfully urge you to call on the government of Sierra Leone to conduct prompt, thorough, and impartial investigations into all these incidents, and in cases where abuses have occurred, to hold those responsible to account. Please watch the links below 
https://cocorioko.net/eu-election-follow-up-mission-statement-casts-doubts-on-integrity-of-those-who-conduct-elections-in-sierra-leone-under-slpp-government/ 
https://freedomhouse.org/country/sierra-leone/freedom-world/2021 
Sincerely, 
Mohamed Salieu Kamara  
Human Rights Activist Campaigner 
  Cc; 
Delegation of the European Union to Sierra Leone

International Criminal Court (ICC)

HE President Julius Maada Bio of the Republic of Sierra Leone 

General Secretariat of the Council of the European Union

The Millennium Challenge Corporation (MCC) 

The African Union (AU)

British High Commissioner to Sierra Leone Ms Lisa Chesney

United States Ambassador to Sierra Leone David Reimer

The Judiciary of Sierra Leone

Rt. Hon. Dr. Abass Bundu Speaker of Parliament Sierra Leone 

Members of the Economic Community of West African States (ECOWAS)

Former President of the Republic of Sierra Leone Dr Ernest Bai Koroma
     13 National Electoral Commission (NEC) Chief Electoral Commissioner Mohamed Kenewui Konneh 
Spokesman for the Secretary-General

Associate Spokesperson for the Secretary-General

The Sierra Leone Force IG Ambrose M Sovula

 

Sierra Leone Association of Non-Government Organizations Chairperson Shellac Davies"