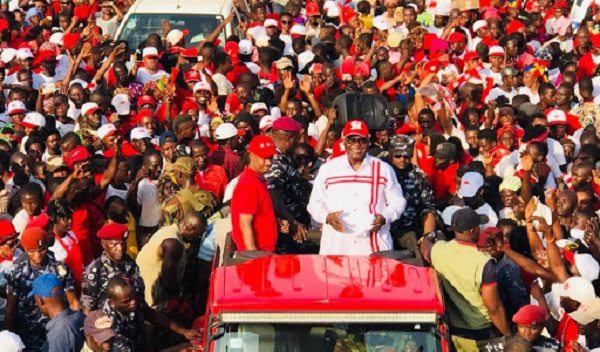 In Kenema City… Bike Riders Endorsed Samura Kamara For 2023
Kenema Town okada riders had recently sent shock wave to the blind supporters of President Julius Maada Bio by publicly declared their unflinching support to the presidential hopeful under the ticket of the main opposition, All Peoples Congress (APC), Dr. Samura Mathew Wilson Kamara.
The disgruntled youths in red attires registered their frustration over the appalling living standards and were unanimously shouting in front of the SLPP office in Kenema "APC back to power".
According to the cheering crowd of bike riders, they needed Samura Kamara for president in Kenema, Kono, Kailahun, Pujehun, Bo and beyond for the 2023 presidential election because the ruling Sierra Leone Peoples Party (SLPP) under the New Direction of President Bio had woefully failed Sierra Leoneans amidst acute hunger and abject poverty.
According to the angry youths, President Bio did nothing even in his home town of Tinhun, Sogbeni Chiefdom in Bonthe District.
One of the demonstrators who happened to be a decendant of Tinhun proclaimed that after God/Allah, Dr. Samura Kamara now is the only hope for Sierra Leone and it's citizens.
The mutineers advanced that they were regretted to have supported Bio in the 2018 Presidential race until he was declared winner of the race, noting that they were not in hesitant to pronounce that President Bio had failed to fulfill the numerous promises he made to the people of this country.
"If Julius Maada Bio can't construct the rugged roads leading to his home town under his tenure in office, who is going to perform that task for him when he would have relinquished power", they queried and recalled that when he was in power, former President Koroma transformed many rural communities across the country with the motive to decentralize development.
Some patriotic citizens have described their move to support President Bio in the 2018 pool as one of their biggest mistakes they have made so far in their lifetime and vowed to remove President Bio again peacefully come what may through the ballot box come June next year.
Moreover, Sierra Leoneans have expressed firm determination to massively register so that they would be in better position to vote against and show President Bio with his senseless and blind supporters the exit door from State House back to Tinhun, where he will going to live permanently as an ordinary citizen until his retirement from active politics.
However, the action of the Kenema okada riders in front of the SLPP office had left the Kenema District Chairman, Agbao with no option but to declare war against bike riders union for declaring support for the APC.