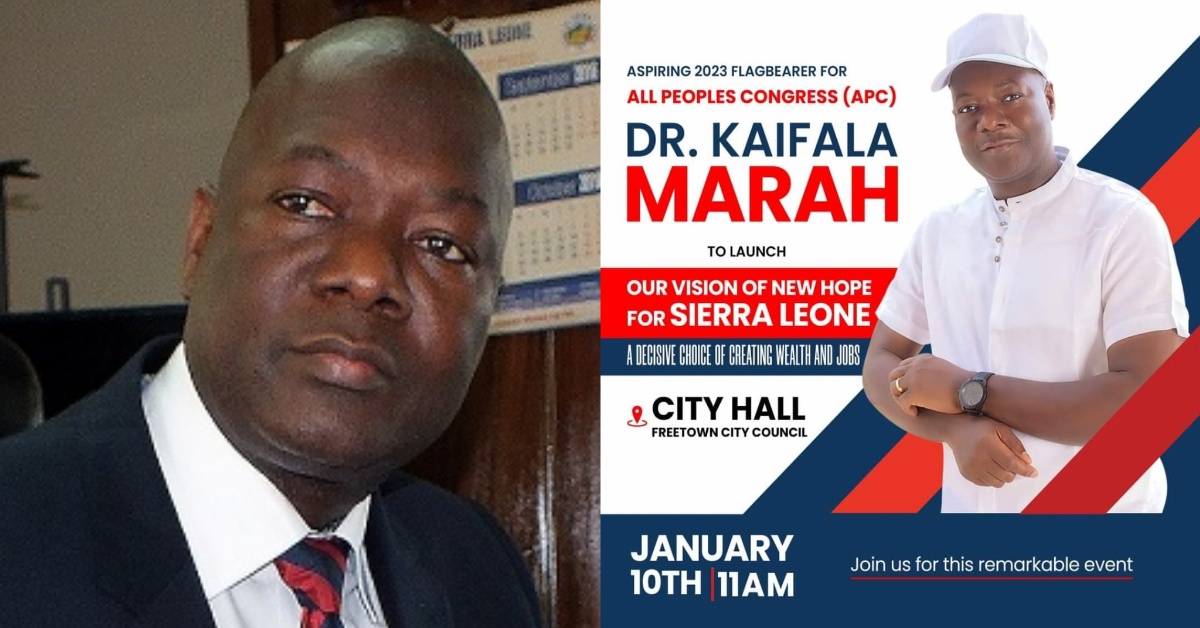 APC Presidential Aspirant, Dr. Marrah Assures Sierra Leoneans Of Massive Opportunities
One of the leading competitors for the All People's Congress (APC) Party Flagbearer race, Dr. Kelfalla Marrah has asserted that if elected president of Sierra Leone, he will create lot opportunities for women and young people with varying qualifications and middle-man-power skills.
Dr. Marrah made all of these assertions during Star TV's 'Special Good Morning Show' program on Tuesday, 17 January, 2023.
The former Minister of Finance in the Ernest Bai Koroma-led government noted that if he becomes president he will ensure that lot opportunities for women and young people with varying qualifications and middle-man-power skills, institute affordable housing programs for citizens, ensure that youths are trained on modern day lucrative courses, make sure that the citizens get access to clean and quality pipe borne water, and a host of other big things.
He further asserted that if he gets the opportunity to rule the APC in the forthcoming general elections, he will surely clinch State House from the ruling Sierra Leone People's Party (SLPP).
He indicated that he has a proven track records as someone who had sincerely served this nation in respectable positions, including but not limited to positions like First Chief of Staff in State House, Central Bank Governor, Minister of Finance, etc., in the previous Dr. Ernest Bai Koroma led-administration from 2007 – 2018.
Dr. Marrah disclosed that his wealth of experience as an academic personality and as someone who has lived in the diaspora will make ensure that he institutes projects and activities that would be of great benefits to all citizens of Sierra Leone.
Speaking on how he will ensure that every Ministry, Department and Agencies (MDAs) deliver quality services for citizens, he noted that he will put in place robust mechanisms or structures that would effectively monitor ministers and professional heads in the various MDAs deliver on their mandates, adding that as a President, he would ensure that he monitors all MDAs to making sure that they provide quality work services or results that would satisfy citizen.
Dr. Marah who is also an expert is the financial sector disclosed that the redenomination of the Leones by the current Bank Governor was completely out of the way, noting that the idea was a great one, but said that the strategies initiated for the redenomination were not properly worked. He said the main reason why the Leones continues to depreciate against the United States Dollars.
He revealed that if he is given the opportunity to serve as the Standard Bearer of the APC, and eventually wins the Presidency Seat, he will institute the great ideas which the Presidents of Rwanda, Tanzania did that is currently making these two African countries to experience growth and development.
Asked of what he would do to improve electricity, infrastructure, opportunity to women, Dr. Marrah stated that he will ensure that the Electricity producing company break deals with other companies so that they will be able to provide the citizens with effective and steady energy, noting that if he is made the President electricity supply to citizens would not be lamed one as it is currently the case.
Regarding infrastructural development, he noted that he is in the first place a person who loves infrastructural development.
"I am a person who likes to engage in infrastructural initiatives as I had before now served in various positions as head of infrastructure in the 11 years reign of APC," he said.
"I will ensure that women are given pivotal roles in my government," he noted, adding that he has always considered women as major partners or contributors in development.
Dr. Marrah boasted that he is a gem in the All People's Congress  (APC) party, stating that he had always diligently served and contributed to the growth and sustenance of APC, and the nation at general.