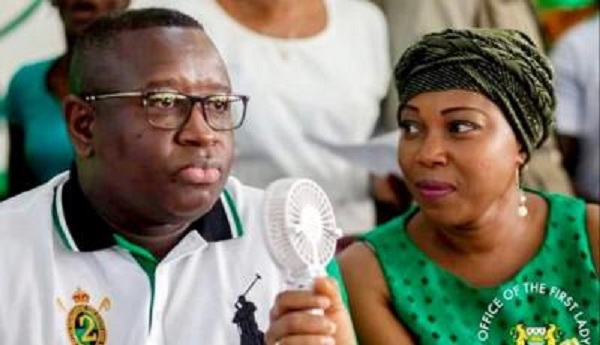 "The President is Stealing The Country's Money as Well as His Wife" – SLPP Insider Tells Sierra Leoneans
A staunch and die-hard member of the ruling Sierra Leone People's Party (SLPP) has caused a shockwave within the political domain of Sierra Leone by calling on Sierra Leoneans to vote in another government instead of the current SLPP-led government headed by President Julius Maada Bio.
Alpha Saidu Bangura, who was a full-time media officer at the Strategic Communication Unit of the Ministry of Information and Communication (MIC), made this shocking statement via a WhatsApp audio he released on social media on Friday 26 November 2021.
Mr Bangura chides the Bio administration for condoning indiscipline within the SLPP, the government and the country, and accuses the administration of rampant corruption, thievery, violence, ineptitude and of destroying the national economy, causing serious hardship and poverty for the people of Sierra Leone. Hence, he called on Sierra Leoneans to act wisely and be determined in the upcoming elections to vote in a set of people that are sober-minded and have a good track record of developing Sierra Leone.
He said: "My people in Sierra Leone I am pleading with you all to consider these happenings seriously and let them make you all determine to vote in the upcoming elections as it is just around the corner, more so now that we have known that these people are corrupt; they have eaten a lot of government monies.
"Please let us be serious about holding our leaders responsible for their actions and the only way we are going to be able to do that is to ensure that during elections, we vote out those who didn't work well for us for national development and those who have destroyed the nation, and hand over the country to sober-minded people, who have a proven record for taking the country forward."
According to Forum News, what went wrong that Alpha Saidu Bangura has burst out in this fashion reproaching the Bio administration is yet to be ascertained, as this desperate chider was a key campaigner in the 2018 elections for bringing back the SLPP to power and a consistent social media propagator of the actions and inactions of the ruling government less than six months ago. He served as a key communicator and propaganda machine at the Strategic Communication Unit of the Ministry of Information and Communication since the ushering in of the SLPP Bio-led government more than three years ago.
Furthermore, in his scolding of the Bio administration, Alpha Saidu, as he is commonly called, also mentioned the Auditor General's 2020 report as having shown all and sundry "clearly" that government functionaries "have been spending our money frivolously, lavishly, 'roto rata' and recklessly".
"They are living at the detriment of the people of the country," he said, adding: "If you have a situation wherein the President is stealing the country's money, as well as his wife, who would have to fight for the people or save us from this bondage? Time will come very soon that we will have the right to vote for a set of new leaders and another government or representatives. This government and its leadership have failed us totally. Also, the economy is bad; they have destroyed it, schools are not running properly and the learning environments at the schools are bad."
Alpha Saidu further accused the government of condoning indiscipline and nurturing thugs in the country in order to use "bad boys" to attack people and destroy ballot boxes and other materials during elections.
"We all know that a government is a set of people that the constitution gives the authority and power to control and manage the affairs of the country but what we are seeing in recent times makes us bound to get to the reasonable conclusion that we don't have a government again in Sierra Leone," the SLPP member said. "This is because now the citizens are seeing government tolerating gangs, bad boys, 'raray boys' that government knows where they stay and assemble. They know how to get them but they just don't care.
"When the government officials are ready to use these bad boys; they are the ones they use to go and break ballot boxes; they see these gangs attacking and killing people, and the police lack the capacity to stop, investigate or punish them.  Really, President Julius Maada Bio does not know how to run the country."