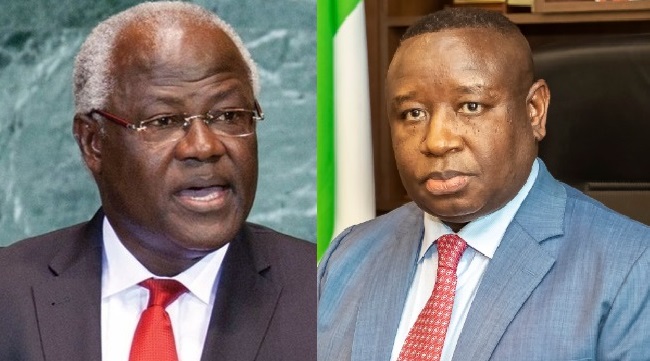 "SLPP do Not Believe in Anything But Force"- Former President Koroma
The Former President of Sierra Leone, Dr Ernest Bai Koroma has said that the ruling Sierra Leone People's Party do not believe in anything but force.
He made this statement when addressing members of the APC and the grassroot supporters on the happenings of the APC.
He said since they take over delegation from June 13 till now, they should have finished  with the lower level elections.
He added that Alfred Peter Conteh has been planted to disrupt any move they want to make, adding that people have been denying it but it is the truth.
"If they say it is not the government, it is the government. If they say it is not PPRC, it is PPRC. If they say it is not the Judiciary , it is the Judiciary. They interprete the law in a way that will favour Alfred Peter Conteh who did not even pay to be a memberof the party." Said former President Koroma.
"We suffered greatly for the registration as Alfred who had the accreditation document refused to give it to us and we had to ask the Unity party and take our agents to the south and east to do what is good for the party." He added.
He continued that If those people had wanted democracy, when they had had their constitution, that is the thing they should have followed religiously but they said no and they removed all of them, but yet still they accepted.
"But any use of manipulative constitutional change to bring the PR system, we are not going to accept it. And also the system that they say they will use the outcome of the census, we are not going to accept it because the census has disgraced them." He added.
He concluded by calling on members at all levels to come together and unify the APC party.