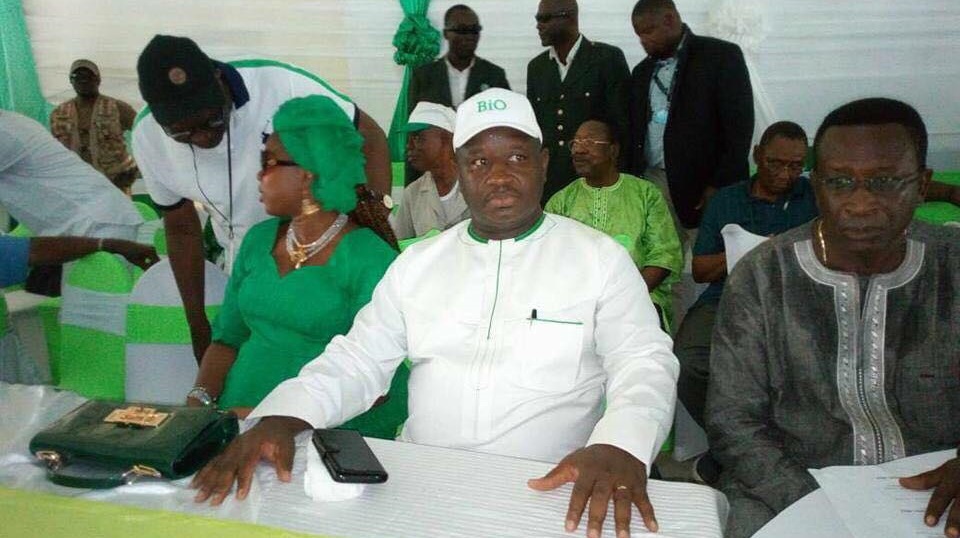 "Stephen Mambu May Challenge Bio in Court"… Fight Over Flagbearer Election   
It was at the Bo Mini Stadium on Wednesday 29th December 2021 where President Julius Maada Bio was endorsed as the flagbearer for the Sierra Leone People's Party, SLPP, ahead of the 2023 Presidential Elections after his nomination process went through without objections.
His nomination, which was done by the party's chairman, Dr. Prince Alex Harding, and seconded by Secretary-General, Umaru Napoleon Koroma, has been widely criticized by some key SLPP Stakeholders, who saw the process as undemocratic.
Key amongst which is Stephen Sahr Mambu, a Potential Flagbearer of the SLPP, who stated on Tuesday that "the recent SLPP Flagbearer so-called "election" of President Julius Maada Bo at the SLPP Bo convention is a serious threat to our democratic system of government".
"The said election must be declared null and void. It was a deeply flawed process, the SLPP Party should hold a new Flagbearer election in 2023…one that is not rigged," he said and added that free, fair, and credible elections are the foundation of our democratic system of government, of good governance and of the prosperity our nation can share by leveraging our wealth of resources," Mamabu remarked.
The delegates' conference in Bo, he said was meant for the elections of Chairman and Deputy Chairman and not for a Flagbearer. Mambu accused the SLPP Chairman, Dr. Prince Harding of making the illegal nomination of President Bio, just to cover up his alleged Murder case.
"I went to Bo for the conference and the election was not for the flagbearer. I made it clear that it was not proper because the conference was to elect the chairman and deputy chairman. I have taken a series of diplomatic steps. Prince Harding wanted to save himself from the murder case which is why he illegally nominated the president. He might be a Flagbearer for the Paopa and not the SLPP," he noted.
Mambu is currently in talks with his legal team to seek redress in a court should nothing is done to restrain Bio from representing the party as a Flagbearer through a flawed process.
"I believe in the rule of law," he said and added "We should try to rebuild and reunite this country. The country is in backward due to tribalism and bad electoral processes at the party level in the SLPP. We had a flagbearship election scheduled for 2023. The one held in Bo was undemocratic," he told this press. "The nomination and election of President Bio were undemocratic and lawless," Mambu revealed.
"All candidates should have a chance to offer their visions of leadership. In my case, I will share my already widely respected and beloved signature policy to the delegates. After hearing from each of us individually, delegates would freely and democratically vote for the candidate of their choice.. myself and every competitor. That's what government of the people is not pre-ordained results, but a chance for delegates to consider what they think best for the people they represent,"
Mambu revealed and furthered that "prematurely holding the SLPP Flagbearer election at the Bo convention was improper. It was a travesty of justice illegal, unconstitutional, non-transparent, and undemocratic. It is NOT in the interest of our country and its future to ignore the rules of moral ethics leaving elections open to potential bribery corruption and even potential threats to peace and national security."