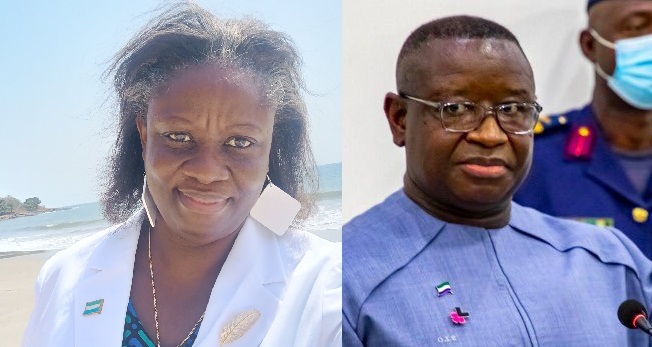 Sylvia Blyden Dismisses 'Nonsense' Appointment as Minister of First Lady's Affair
Sylvia Olayinka Blyden has dismissed a notice alleged to come from the Office of the President appointing her as Minister of First Lady's Affair, referring to it as nonsense.
She shared the fake appointment notice on her social media page and wrote 'nonsense' on it.
The fake appointment notice stated that, "The General Public is hereby informed that it has pleased His Excellency, the President Brig. (Rtd) Julius Maada Bio announce the following: Hon. Dr. Sylvia Olayinka Blyden OOR – Minister of First Lady's Affairs."
In the fake notice, the Presidential Spokesman, Yusuf Keketoma Sandi stated that, "Another New Ministry has been created by His Excellency. Congratulations to you, Dr. Sylvia O. Blyden and welcome to the new direction.
Blyden entirely dismissed the appointment notice circulated on social media, and rumours of her leaving the APC.
"It is a fake image cooked up with Keketoma's name by deranged Jihadists inside my APC party who are just jittery over nothing – I am certainly not leaving the APC but my party Jihadists are still so nervous," Blyden stated.
"What I do know is that I am a matured, well experienced, top Sierra Leone politician who knows the value of promoting visible shows of Unity and Dialogue at the leadership levels," she added.
Blyden revealed that she got to meet with Presidential Spokesman Yusuf Keketoma Sandi, for the first time in over 5 years when her little sister, First Lady Fatima Bio, invited her to Presidential Lodge last week during the event for visiting U.S. Congressional Delegation.
"We took this photo together that day. It was our first time of meeting since he became Presidential Spokesman," she stated.