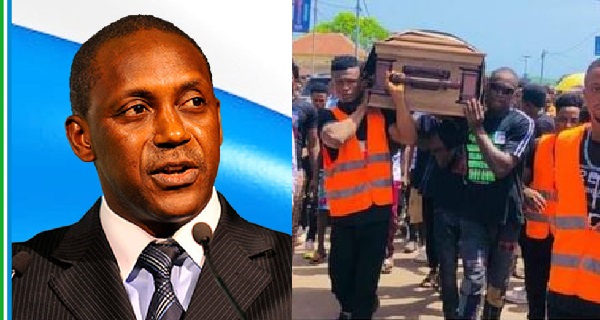 Kandeh Yumkella Pays Last Respect to Late NGC Bombali District Chairman Alhaji Morlai Dumbuya
Members of the National Grand Coalition (NGC) Party including the Chairman and Leader Dr. Dennis Bright, the Party's Leader at the well Parliament Kandeh Kolleh Yumkella, and other executive members on Friday, May 6th, 2022 joined the Dumbuya Family as they lay to rest Alhaji Morlai Dumbuya popular known as "Papani" after the book of condolence was officially opened at party's office in Makeni before his burial ceremony and until his sudden demise was the Chairman of NGC in Bombali District, he was buried at the Makeni- Kabala Highway Cemetery in Makeni.
The young Politician and Entrepreneur attended the Saint Francis Secondary School in Makeni as a member of the OMFA Class of 2006, was the Chief Executive Officer of Papa's Restaurant at Mabanta Road Makeni, and also served as an Instructor in the Home Management Department at Youth Build Sierra Leone, but suddenly passed away at the age of 38 years after a tragic event that took place at Makoth along the Makeni- Freetown Highway on Friday 29th April 2022.
Speaking to NewsFeed Sierra Leone, the Chairman and Leader of the National Grand Coalition Dr. Denis Bright described the Late Papani as one of the most active Chairman who does not only believe but as well works relentlessly to improve the membership strength of the party.
He described the late chairman as a big loss to the party, but his work must be celebrated during this brief moment. He, therefore, urged members of the party in the district and the country at large to remain steadfast and emulate the footsteps of "Papani" who is a true hero not only to NGC but has also impacted the lives of several youths in diverse ways.