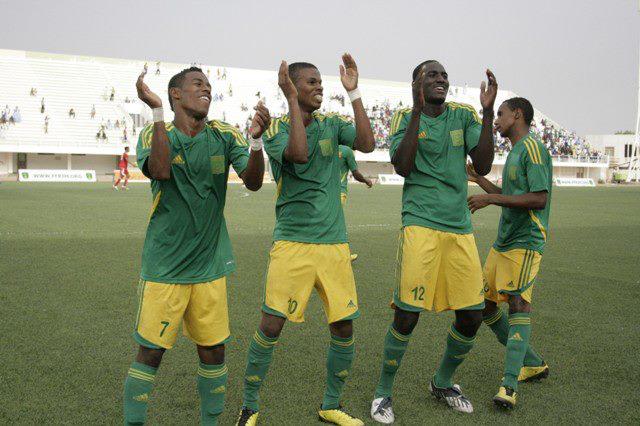 Mauritania Defeat Sierra Leone 2-1 in CHAN Qualifier
Goals from Abeid Aly and Taghyoullah Denne handed the Les Mourabitones (pictured) a 2-1 win over struggling Sierra Leone in the first leg of their 2016 African Nations Championship on Sunday evening at the Olympic Stadium in Nouakchott, Mauritania.
In a game of two halves, the Leone Stars started very slow and looked very tired.
Mauritania's French coach, Corentin Martins side dominated from the start and, as a result, an early goal justified their determination for victory.
A Stunner from Asac Concorde defender, Abeid Aly from 30 meters beat Sierra Leone stopper for their opener inside five minutes from the start.
Taghyoullah Denne extends the lead just before the half-time whistle from 12 yards after the center referee awarded a penalty for an untimely goalkeeping from the Sierra Leone stopper, Ibrahim Bah and was shown a yellow card for his late decision.
However, Sierra Leone was saved by the break and they returned from the dressing room a different team.
The visitors from Freetown tried to fight back in the second half in front of a quarter -capacity crowd.
Coach Bah's men halving the deficit five minutes from time, a wonder striker from Sallieu Tarawallie to set up a tense second leg tie.
The local heroes from Sierra Leone are left with an uphill task heading into next week return leg at the same venue a slight edge for Mauritania.
Sierra Leone wasted few chances of their own in the later stage of the match, which could have handed them a draw.
Leone Stars starting team: Ibrahim Bah, Defenders: Saidu, I-Kamara, A-Suma, Y-Dunia, Midfielders: Captain S-Barrie DM, K- Quee, A-Kanu AM, Attackers: O-Tunronka, A- Bangura, S Tarawallie
Coach: Abudulai Bah
Mauritania Squad: Brahim Souleymane Diallo, Abou Sy, Oumar Ly, El Mustapha Diaw, Aly Abeid, Baghayogho Moussa (cap), Yali Dellahi Mohamed, Taghyoullah Denne, Samba Abdallahi, Mamadou Niass, Boubacar Beyguili
Coach: Corentin Martins
CHAN other Results:
NORTHERN ZONE: Monday, 15 June 2015, Morocco 1-1 Tunisia
Thursday, 18 June 2015, Holders, Libya 1-0 Tunisia
Sunday, 21 June 2015, Morocco vs Libya
WEST ZONE A: Saturday, 20 June 2015, Guinea-Bissau 1-1 Mali Senegal 3-1 Gambia, Sunday, 21 June 2015, Mauritania vs Sierra Leone Guinea vs Liberia pp
West B: Ghana v Côte d'Ivoire, Nigeria v Burkina, Faso Niger v Togo
CENTRAL-EAST ZONE: Saturday, 20 June 2015, Tanzania 0-3 Uganda
Sunday, 21 June 2015, Djibouti vs Burundi, Ethiopia 2-0 Kenya
SOUTHERN ZONE: Saturday, 20 June 2015, Mozambique 5-1 Seychelles South Africa 3-0 Mauritius, Sunday, 21 June 2015, Zimbabwe 2-0 Comoros, Lesotho 0-0 Botswana, Namibia 2-1 Zambia