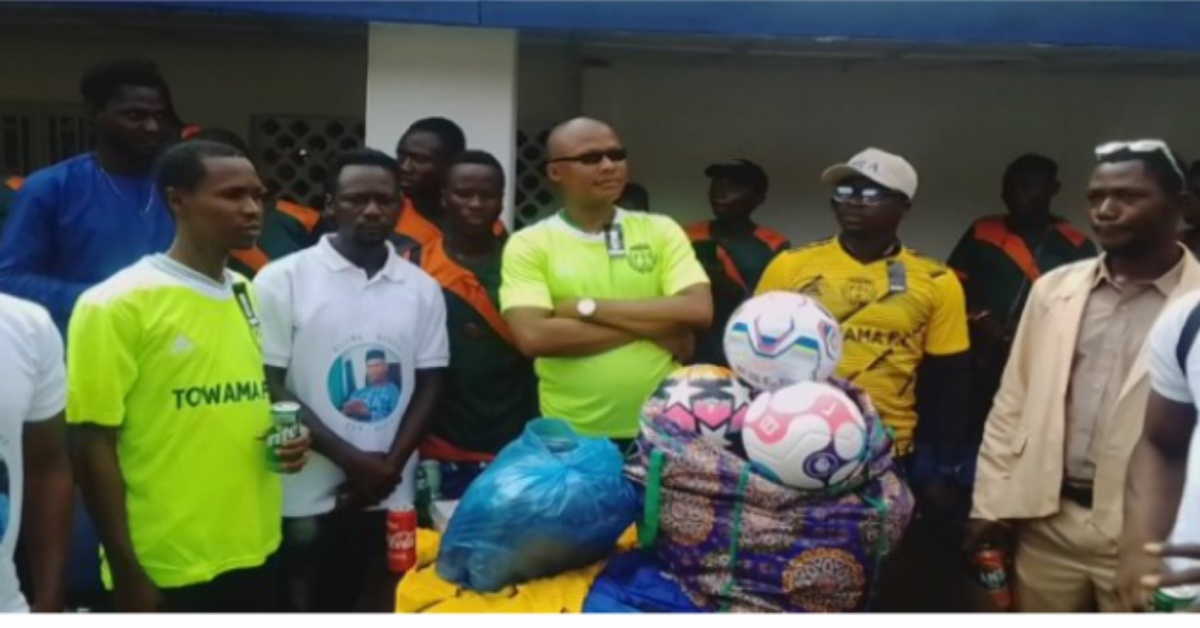 PRA Boss Donates Football Kits To Torwama FC
The Executive Chairman of the Petroleum Regulatory Agency, Dr. Baluwa Koroma has donated football kits including motivational support of five million in old Leones to the Torwama Football Club in Tikonko Chiefdom, Bo District.
Speaking at the presentation of the kits at a colorful ceremony held at the Petroleum Regulatory Agency office on Sunday, Dr. Koroma said that "his support is part of his contribution to President Bio's human capital development as one of the indigenes in the provinces."
He said that when the organizers of the forthcoming Bio trophy told him to have a team, he told them that he already had a team, which is the Torwama FC. According to him, when he was told by the team manager that they want to take part in the President Julius Maada Bio Trophy league he decided to pledge his support to help them and he has been committed to fulfilling his promise by providing football jerseys, 3 footballs and this will help them to prepare well for the match and even other matches.
Dr. Koroma said that to enhance their movements to play matches, he provided in old Leones to the tune of five million Leones and called on them to make judicious use of the money to fast track their movements in and out of the Bo district.
"I challenge them to win the cup and if even they did not when but should go closer to the cup and as a hero you should die close to your victory", adding that: "I am ready to fully support them in the tournament".
The PRA boss calls on members of the Torwama FC to register and also continue to talk to their beloved ones to go out there and register in large numbers to ensure that President Bio is re-elected to continue with the development of the country.
Lawrence Bona, who is the team Manager of Torwama FC said that "we appreciate the football kits and the cash of five million Leones and that he is following the footsteps of President Bio, being referred to as 'Talk and Do'.
He assured the PRA boss that the money and the kits were given would be used for the intended purpose. Bona said that they are in desperate need of the items provided to the club and further assured him that they will try their level best to win the cup.
He said that they will encourage their beloved ones to turn out in large numbers to register for President Bio to secure the second mandate to rule the country again to continue with the good work that he started in his first term