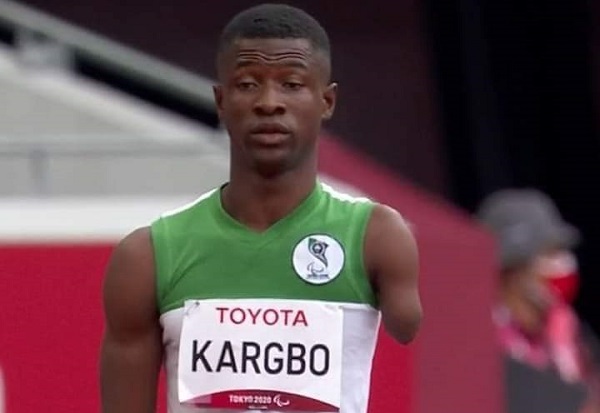 Sierra Leone's Sorie Kargbo Ranked Africa's Best Paralympic Athlete on Long Jump T47
Sierra Leone Paralympic athlete, Sorie Kargbo, has been ranked first in Africa on Long Jump T47 in the Paralympic in Tokyo.
The Only African Athletes to reach the Finals of the Long Jump Men T47 Event, Sorie Kargbo of Sierra Leone ended up in the 12th Position. The contest took place on Tuesday 31st August 2021 at the Paralympic Stadium in Tokyo.
The African Paralympic Committee has already ranked the athlete number 1 in the T47 Long Jump. Sorie is a T46 (One Arm) Classified athlete but was included in the Class of T47 (Two Arms) athletes.
He did a best jump of 5,78 Meters in the final event. He recorded a Personal Best (PB) improving his last Jump in Tunisia in March which was this 4.56 Meters distance.
Team Leader of Paralympic Committee Unisa Deen Kargbo quickly congratulated the athlete noting that the performance was a clear indication the Para Sports is growing in Sierra Leone.
He laid emphasis on the continuous support given to the Paralympics by the National Olympic Committee headed by Dr Patrick Coker and also the games support from the Government of Sierra Leone spare headed by Minister of Sports Ibrahim Nyelenkeh and NSA Head Dr Kenneth Brima. Secretary General of NPC Alexander Thullah and Coach Hajaratu Karama were all heads up after the event.
The Deputy Executive Director of the National Sports Authority Abdulrahman Swaray who was among the Sierra Leone Dignitaries that were at Olympic Stadium in Japan, said he was happy for the performance displayed by Sorie Kargbo to put the country in the world stage in such a major game like this, is good for the country
He went further to encouraged and congratulate All Sierra Leone athletes and other member of the delegation for a Job well done.
Speaking to Sorie Kargbo after the event said he was happy to be Africa number one and he is going to become more focused than before to make a mark in the world on T46/T47 long jump.