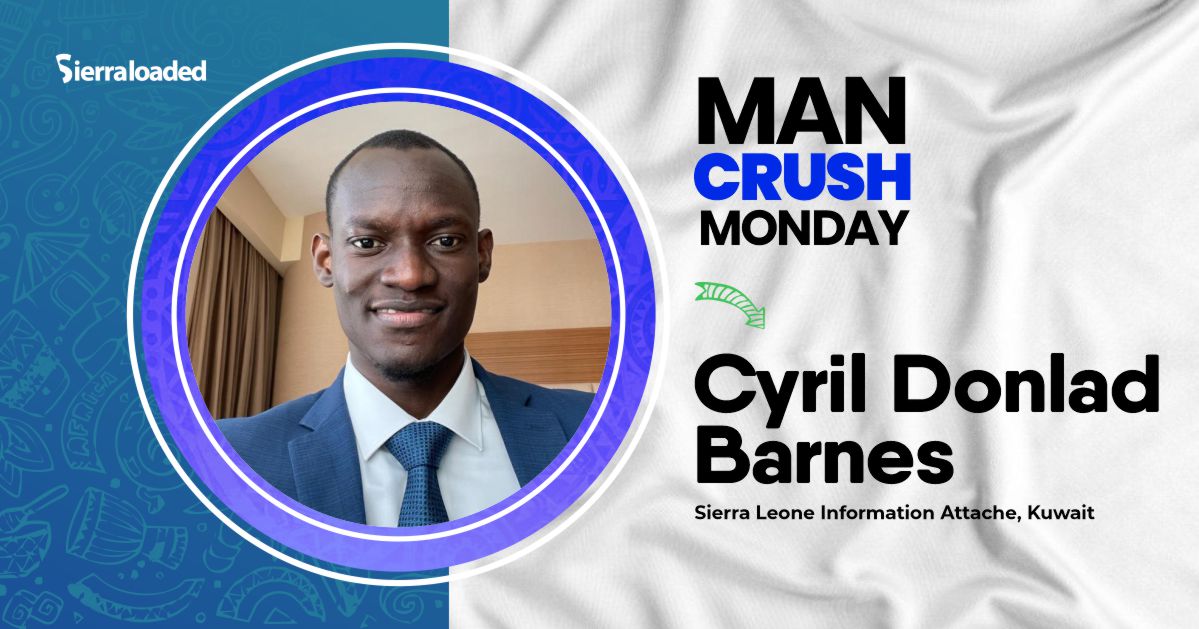 Meet Cyril Donald Barnes, Sierraloaded Man Crush Monday
Meet our Man Crush for the first week of November, Cyril Donald Barnes.
Cyril Barnes is Sierra Leone's Information Attaché to the State of Kuwait.
Barnes started his early years in the small town of Sembehun, Moyamba District, before proceeding to Freetown, where he attended the Prince of Wales Senior Secondary School, Kingtom.
He later studied Peace and Conflicts and also bagged an Honours Degree (First Class) in Mass Communication (Public Relations and Advertising) at the Fourah Bay College, University of Sierra Leone.
Barnes is well-known for his oratory dexterities and penmanship prowess, which gave him an opportunity to serve as the Mass Communication student executive during his stay at Fourah Bay College.
He is hailed from a humble Christian home. However, he did not allow his background to defy his determination to succeed. This budding diplomat, whose favourite quote is "Risk is a mission of gain or loss, and it is very risky not to take a risk" believes that there are no traffic jams in the extra mile. Having those ideals in mind, coupled with humility and a firm will to overcome the odds, he has catapulted himself to a Statesman worthy of repute, serving Sierra Leone faithfully and putting her interest above all else.
His immediate Boss at the Embassy is Her Excellency Haja Ishata Thomas, Sierra Leone's Ambassador to the State of Kuwait, Africa's first female diplomat to the State of Kuwait. Ambassador Haja Ishata Thomas started her early years as a teacher. Her lecturing and administrative days helped broaden her horizon and sharpen her career, especially in becoming a diplomat. She, like many great women in the world, had to overcome many challenges in her life to become an ambassador, such as growing up in Sierra Leone, like many countries around the world, a patriarchal culture characterized by the supremacy of men in the family and within institutions.
Cyril has progressed steadily in the field of diplomacy, with a focus on developing his budding career in that regard. Before being appointed by His Excellency the President, Dr. Julius Maada Bio, Cyril worked as the Media and Communications Officer for the Sierra Leone Civil Aviation Authority (SLCAA).
Some of Cyril's immediate Responsibilities include but not limited to:
Monitor and document news developments and write the daily press review; advice on communication-related matters, host media events and organize meetings with the press for the Ambassador or the Embassy, report on activities of the Mission, develop Press Releases and other communication content, manage and feed the Mission's website, Twitter and Facebook Pages, assist in developing Quarterly Post and Administrative Reports, initiate and coordinate activities with the Sierra Leone Community in the State of Kuwait, as well as coordinate internal and external communication, facilitate trade and investment meeting, among others.