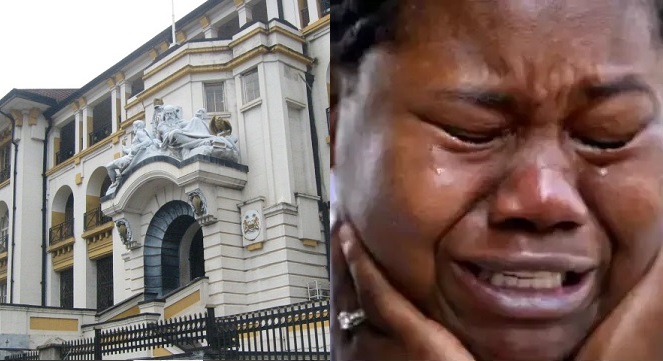 August 10th Riot: Woman Jailed Two Years For Dancing Without Clothes
Magistrate Mark Ngagba of the Pademba Road Court No.1 on Friday 30th September 2022, sentenced Sento Conteh to two years imprisonment after she was found guilty of exposing her body and dancing na__ked during the August 10th protest in Makeni.
The convict was arraigned before the court on a count of indecent exposure country to the law of Sierra Leone. The charge sheet indicated that the accused on 10th august 2022, in the Makeni township indecently exposed herself. After the charges were read and explained to the accused, she pleaded guilty to the offense.
State prosecutor, Yusif Issac Sesay, in his brief fact, said the accused on the said day of the riot, stripped herself naked in a video that went viral.
He said the video showed her genital and other private parts of the accused and added that the accused didn't waste the courts time, but asked that the Magistrate should sentence the accused to serve a jail term of two years five months so that it will serve as a warning to others.
Sesay continues that the accused could be a mother, sister, or girlfriend that had brought shame to womanhood as what she did was not only legally wrong but morally wrong also.
Defense counsel G. Conteh, in his plea of mitigation, said the accused didn't waste the court's time as she pleaded guilty to the offense. He added that the accused is a first-time offender and had never been in conflict with the law.
He said the circumstances leading to the indecent exposure were not known as she lost her husband and child. He pleaded with the Magistrate to have mercy on the accused and noted that she should be caution and discharged or pay a minimum fine.
Magistrate Ngeba said the maximum fine for such an offense should not exceed more than ten thousand leones and the jail term should be three years imprisonment.
On that note, he, therefore, sentenced the accused to a jail term of two years imprisonment.