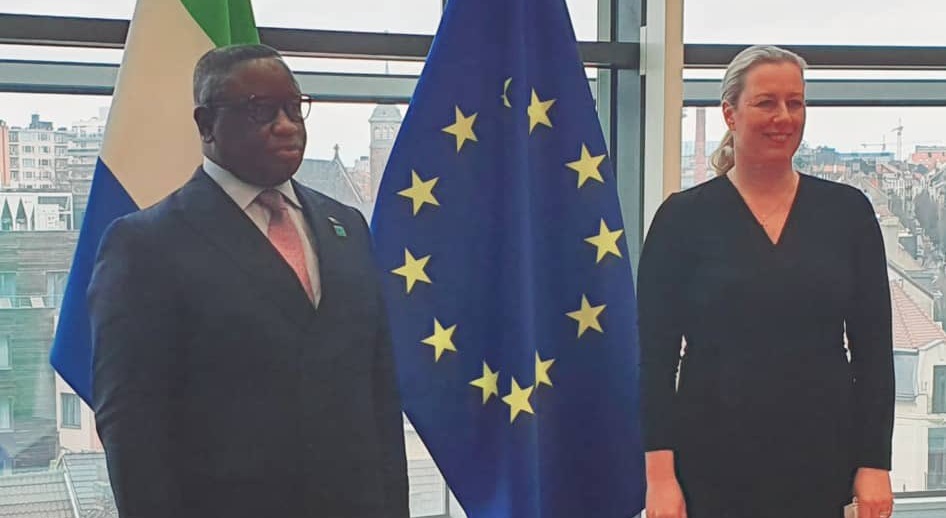 EU Delegation Pays Courtesy Call on Energy Minister, Says Sierra Leone's Energy Sector Remains a Priority Area For The EU
Deputy Head of Delegation of the European Union,EU,Juan Antonio Frutos, together with his team, has paid a courtesy call on Sierra Leone's Energy Minister, Alhaji Kanja Sesay,during which time he reiterated the commitment of the EU to supporting Sierra Leone's energy sector with a view to helping the Government provide affordable and reliable electricity.
He said energy remained a priority area in the new program that the EU had recently adopted,adding that the Union would continue to provide the necessary support to Sierra Leone's energy sector.
Mr. Frustos said that the EU had put together a program that would help Sierra Leone improve on its energy capacity and as well help the country increase citizens' access to affordable,reliable and sustainable electricity.
While thanking the team for the visit and the assurances given, Minister of Energy, Alhaji Kanja Sesay,on behalf of the Government of Sierra Leone, expressed his appreciation and gratitude to the EU for their relentless support to the country in different priority areas of intervention.
He said he was of the fervent hope that the relationship between Sierra Leone and the EU would get stronger, noting further that the energy sector was looking forward to receiving massive EU interventions.
Mr. Sesay concluded by praising the EU for supporting critical sectors like education, health, democracy and good governance and infrastructure.
Project Director of the Bumbuna Hydroelectric Dam, Cyril Grant, gave a brief overview of engagements the Ministry of Energy had had with the EU with respect to priority or crucially needed energy projects.
The energy sector reforms continue.