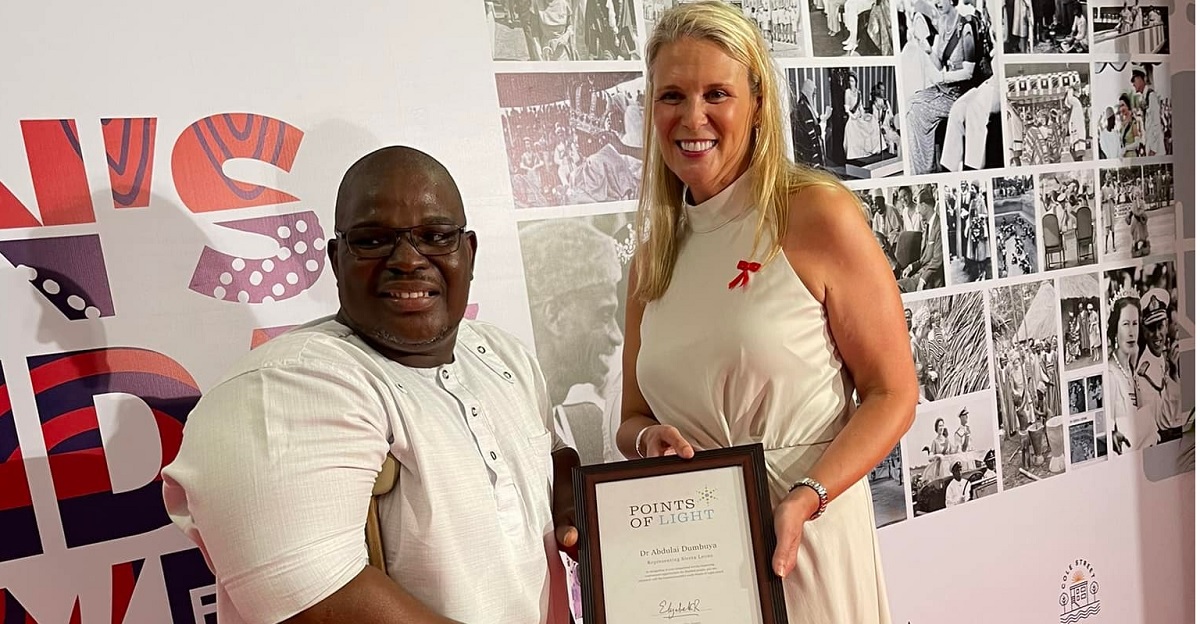 Sierra Leone British High Commissioner, Lisa Chesney Presents Special Award to Philanthropist Dr Abass Dumbuya
The Sierra Leone British Commissioner, Lisa Chesney has presented a special award to Popular Philantropist Dr Abass Dumbuya. Dr Dumbuya  believes  that this is what hard work and commitment is all about. Selfless dedication to empower others – because at one point someone supported you.
He pointed out that It has been an absolute pleasure "giving back" by setting up The Dorothy Springer Trust and transforming the lives of people with disabilities in Sierra Leone through ICT training scholarships, advocacy and creating employment opportunities for PwDs.
An award from and signed by Her Majesty The Queen of United Kingdom and inscription reads: "In recognition of your exceptional service improving employment opportunities for disabled people, you are presented with the Commonwealth's 210th Points of Light award", representing Sierra Leone…received on the occasion of HRH Queen's Birthday Party and presented by Her Excellency the High Commissioner to Sierra Leone, Lisa Chesney.
He dedicated the award to all those who have worked to make a difference to the lives of PwDs. "Thank you HRH The Queen for recognising me in my small corner." He stated
Lisa Chesney MBE took up her position as the British High Commissioner to Sierra Leone in August 2021. She has most recently served in London in the Home Office as Gold Command for the Crime, Policing and Fire Group's response to and recovery from COVID-19. From 2018, Lisa led the UK's Counter-Extremism Unit.
Security and Defence has been a theme throughout Lisa's career, she has worked with a range of countries, multilateral partners and government departments on this agenda