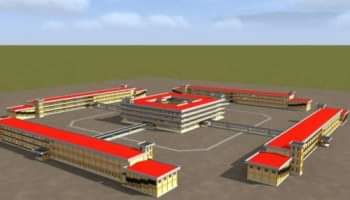 Ministry of Technical Education Signs Contract to Kick Start Contruction Work of Kono University
The Ministry of Technical and higher education has signed a contract with two consulting firms (Deacon/C+5) and Yorma Engendering for the commencement of the 1st Phase of Construction work for the Kono University of Science and Technology. The meeting was held at the Ministry Conference Room in New England Ville.
The Minister of Technical and higher education Prof. Alpha Tejan Wurie, mentioned that the presence of a high Caliber to grace the signing ceremony is an indication that the entire process is gradually having a divine touch, He noted that in as much as the funding Agency (ECOWAS Bank for development ADB) has its own time profile, the Government of Sierra Leone has seen the need to play its part by using its own money in the process as well.
Prof. Wurie pointed out that Kono University would start in two different PRONGS, the PRONG of getting the infrastructure and the PRONG of getting the students to start the access program, each of which is already set to Commence this year 2021.
The signing ceremony this afternoon is a manifestation of the fact that we recognize that the transmission from Secondary to Tertiary is getting larger- we have to create the institution as well as ensure the quality of what they get. The Government of Sierra Leone will start the construction of Admin-Building, the Students Assembly Hall, Lecture Rooms, the Hostels, and the Canteen.
According to the Chairman of the office of Presidential infrastructure initiative(OPII), Dr. John Tambi, the Kono University of science and Technology got funding of $33 Million from ECOWAS Bank of Development(EBD) to build university of Kono, but because of the slow process of accessing the funding from ECOWAS Bank of development, the Government of Sierra Leone through H.E President Julius Maada Bio is using its own Money,  besides the $33 Million, to build an Administrative Building,  Students Assembly Hall, Canteen, Lecture Hall, as a Manifestation of H.E President Maada Bio dreams of building Modern University for the people of Kono, which is the University of Kono Science and Technology.
The Government of Sierra Leone through the Ministry of higher and Technical Education have selected two (2) consulting firms Represented by the People of Kono, which the Government believes the people of Kono needs ownership of the University Project.
Member of Parliament Constituency 029 Hon. Rebecca Kamara assured the public of their readiness as MPs to play a proper oversight role in a bid to ensure that accurate work is done on the construction site. She appreciated the Government of Sierra Leone for implementing the local content policy by given the contract to local indigenes contractors of Kono district.