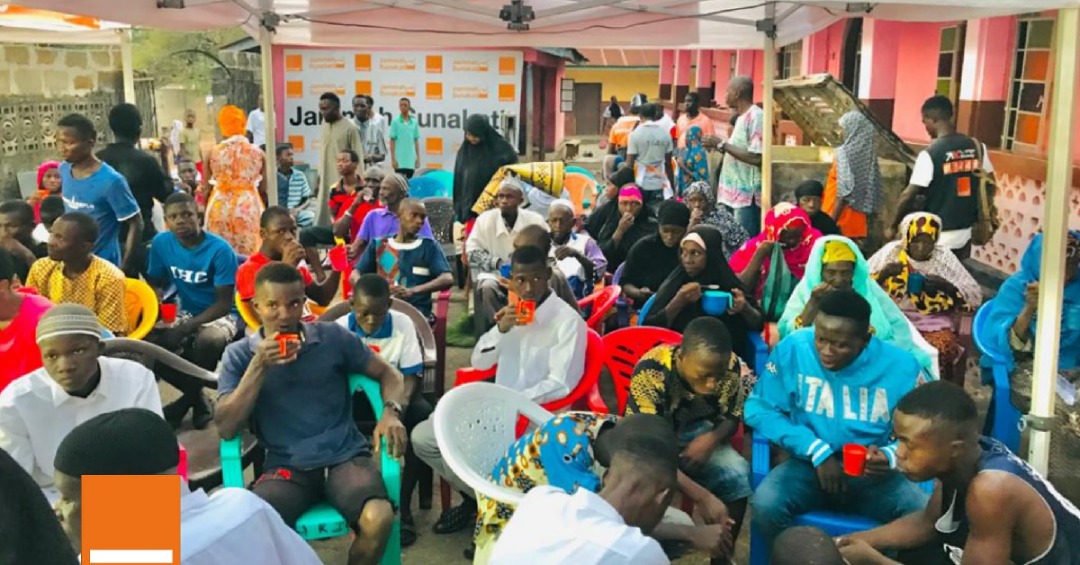 Orange Feeds Hundreds of Sierra Leonean Muslims Residents in Magburaka
Orange Sierra Leone has fed hundreds of muslim residents at Magburaka.
As the leading mobile Company in the country, Orange break fast with the people of Magburaka as part of the company's Jammah sunakati Promotion.
As the Sunakati Food was  served , Magburaka Muslim residents faces beamed with smile as they dine together.
Magburaka is a very strategic geographical area in the North. It is the capital and largest city of Tonkolili District in the Northern Province of Sierra Leone. Its population was 16,313 in the 2004 census and a current estimate of 40,313. It is located at around 8°43′1″N 11°56′36″W, along the Rokel River.
Magburaka lies just about 26 miles (42 km) drive south-west of Makeni, the economic center of Northern Sierra Leone and about 80 miles (135 km) drive east of the country's capital Freetown.
The town is a trade center and is one of the main cities in Northern Sierra Leone.
It is an educational center and is home to the Magburaka Government Secondary School for Boys, the first western standard Secondary school built in the Northern Sierra Leone. The school is one of the elite secondary schools in Sierra Leone and is well known for producing some of the most gifted students in the country.
Orange will continue their Ramadan Sunakati gesture towards  residents of Koidu City, Kono District on Friday 15th, April.