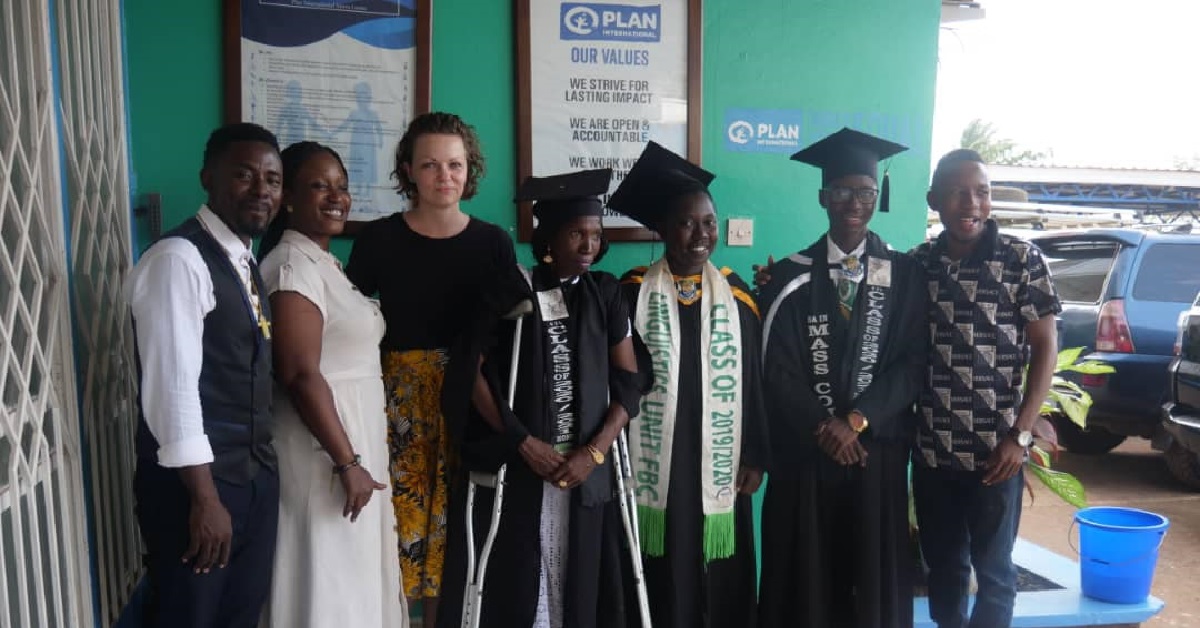 Plan International Celebrates Three Young Staffs After Completing University Degrees From Fourah Bay College
Plan International Sierra Leone staff have celebrated three of their young people who recently graduated from Fourah Bay College, University of Sierra Leone.
The three graduates bagged flying colours with honours in two different departments. Fatmata Jalloh, a member of Plan's Youth Advisory Panel (YAP) Alumni and Sallieu Sankoh, a current youth intern and YAP Representative for Plan graduated with a B.A Honours in Mass Communications. On the other hand, Rosaline Judy, a member of Plan's Girls Out Loud graduated with a B.A Honours in Linguistics.
The young people and graduates though taken by surprise, awarded a Certificate of Appreciation to Plan International Sierra Leone for positively impacting their lives and contributing to their academic success.
Speaking during the presentation, the celebrants commended and appreciated Plan International's work, whilst encouraging them to continue empowering many young lives.
Evariste Sindayigaya, the Country Director, was amazed by the action of the young people, but noted that he had no doubts in them. The CD reiterated the fact that Plan International is for them and will continue to ensure that they (young people especially girls) learn, lead, decide and thrive.
Wishing on them congratulations and a hearty welcome to the cooperate world, the CD granted Fatmata Jalloh an internship with Plan International. Fatmata is the outgoing president for Students With Special Needs at Fourah Bay College, after hearing Fatmata's touching story from her colleague and classmate, Sallieu who described her "a strong woman".
It all ended with cutting of a cake and snapshots with the new graduates.