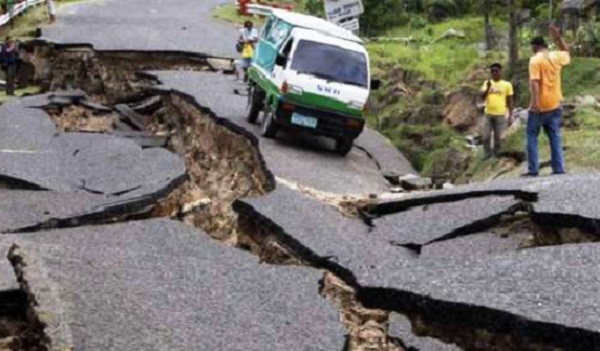 Suspected Earth Tremor Causes Fear of Earth Quake in Freetown
Suspected earth tremor in parts of Freetown, has caused palpable apprehension among residents of the affected communities in the capital of Sierra Leone.
Residents of the areas noted that the tremor caused serious cracks on the walls of their buildings though no injury was reported.
Report by Earthquakecrack.com shows that the tremor occurred at 1065 km (660 mi) SSW of Freetown, Sierra Leone
Describing the incident, Chernoh Bounanya who lives in Waterloo told Sierraloaded that He experienced something as if it was an earthquake or heavy thunder. But He don't actually knew what was it.
He said, "in fact, there was a kind of earthquake, very serious quake that lasted for some minutes.
"At first, I thought it was armed robbers that were removing my roof, so I started shouting, 'armed robbers, armed robbers', only to realise that others had similar experience."
Another Resident, Jeremiah Fonnie narrated, "It was around 4:30am-4:45am, I was still in bed when I heard a heavy vibration. I thought it was something else so I quickly went into prayers,"
Just recently, the Sierra Leone Government had discovered 28 dangerous areas where Natural disasters could happen in Freetown. According to the Director of Research and Planning, Office of National Security (ONS), Mr. Francis Y. Kellie, the capital Freetown has over twenty eight vulnerable disaster prone areas.
An earth tremor , Wikipedia says, is the perceptible shaking of the surface of the earth, resulting from the sudden release of energy in the earth's crust that creates seismic waves.
It adds that a tremor could be violent enough to toss people around and destroy whole cities.