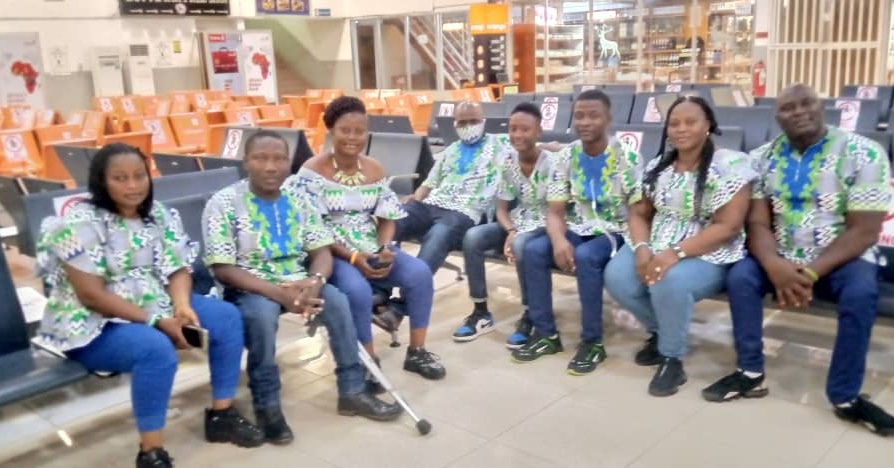 Ahead of The 2020 Paralympics Games… Team Sierra Leone Jet Off to Tokyo
The first batch of the Sierra Leone Paralympics delegation departed the Lungi International airport for Tokyo, Japan in the early hours of Wednesday morning for the games which will be commencing on Tuesday, 24th August 2021.
The 8 man delegation encompasses athletes, coaches and team officials who will be representing the country in the 2020 Tokyo Paralympic Games for disabled athletes.
According to the Chef De Mission, Unisa Deen Kargbo who is already in Japan to receive the delegation, the team will be heading straight to the games village and they will starts training immediately to acclimatised to the weather and also utilise the modern training facilities.
The Paralympics team is supported by the National Olympic Committee of Sierra Leone headed by Dr Patrick Coker and the government of Sierra Leone through the National Sports Authority and the Ministry of Sports who provided the funds for the games.
Official delegation:
Athletes
1. George Wyndham, Proud Paralympian.
2. Sorie Kargbo, Long Jump
3. Juan Jackson, Javelin Throw
Coach
Hajaratu Kamara,
Officials
5. NPC Secretary-General, Alexander Thullah. (The Africa Teacher)
6. Bernard Turay, Media Attache
7. Haja Marie, Nurse/Medic/CLO
8. Zainab Koroma, Chaperone for the under-age female athlete