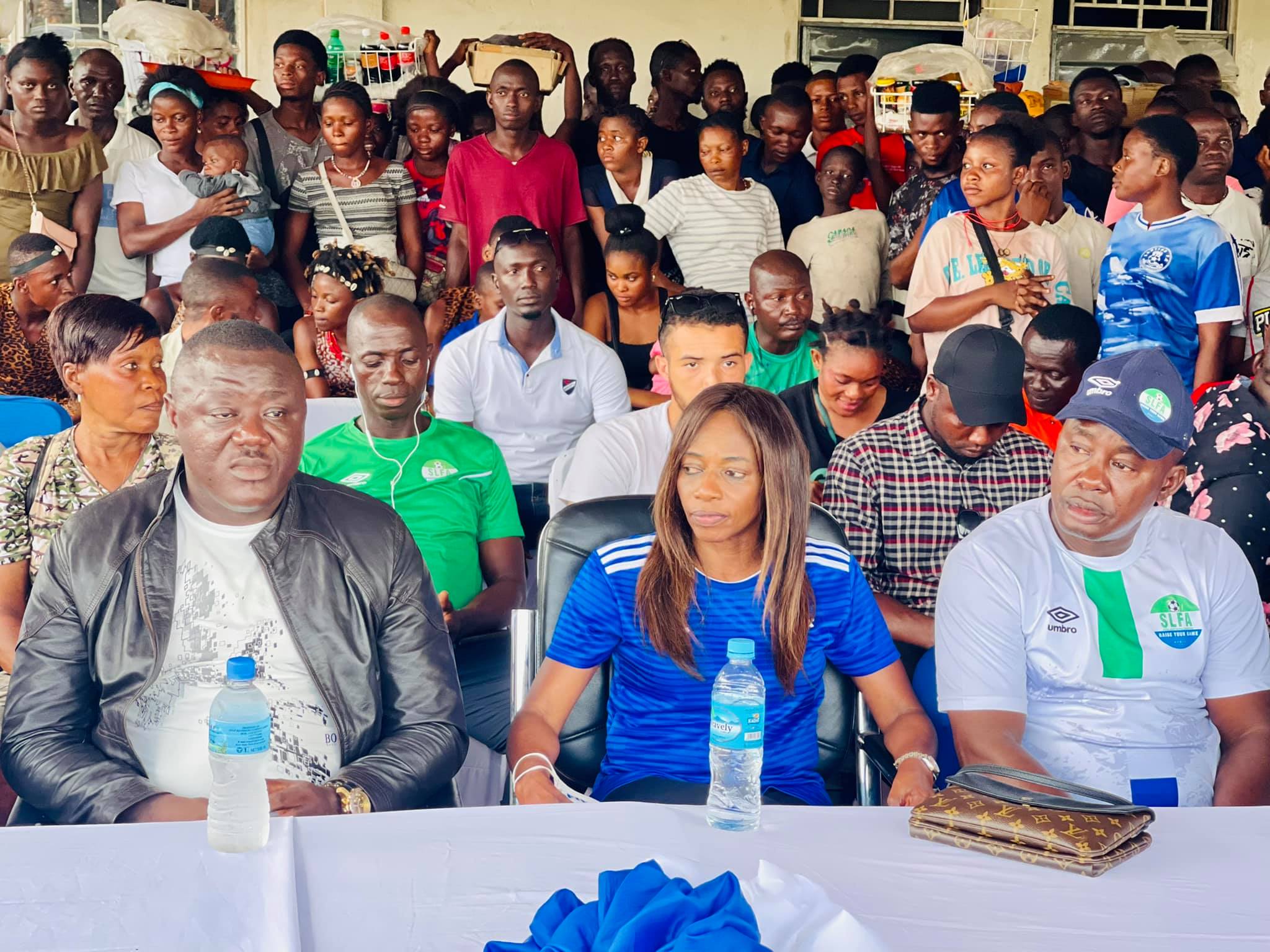 Former SLFA President, Isha Johansen Crowned Chief Kuthbongor N'borflor I, Concludes Tour to Northern Region
The former President of the Sierra Leone Football Association, who is currently a FIFA Council Member and a CAF Executive Community Member, Madam Isha Johansen has concluded a day's 'Thank You' visit to the Northern Region of Sierra Leone. Madam Johansen embarked on this visit to express her appreciation to the football family in the North, who stood by her throughout her 7 years tenure as SLFA President.
Earlier today in Lunsar, Marampa Chiefdom Portloko District, the former SLFA Boss was warmly welcomed by the people of Marampa.Welcoming Madam Johansen, P.C Koblo Queen II of Marampa Chiefdom describes Isha Johansen as "someone with love and empathy for football," while lamenting on her role in changing the narratives in Sierra Leone Football. He went on to proclaim a honorary Chief status on Madam Johansen.
"On behalf of the people of Marampa Chiefdom, I have the honour to proclaim Madam Isha Johansen as Chief Kuthbongor N'borflor I." Making her statement, the FIFA Council Member Madam Isha Johansen commends the people of Marampa and the Northwestern Region in general for their unreserved support throughout her 7 years reign as President of SLFA. "I remain grateful for your support," she said.
Madam Johansen emphasizes on the importance of supporting the young kids and girls who are engaged in football activities, as she deems them as the future of Sierra Leone football. "I will leave you with this message, football is all about peace and love," she concludes.
Later at the Wusum Field in Makeni City, Bombali District, the FIFA Council Member Isha Johansen was also welcomed by a mammoth crowd with diverse cultural displays in her honour, as she extends her 'Thank You' visit to the Northern Region.Welcoming the former SLFA Boss, the Chairman of the Bombali District Football Association (BODFA) Mr. Sullaiman Sillah Sesay thanked Madam Johansen for her enormous job in giving Sierra Leone football a facelift. "We welcome you into the land of football, land of peace and unity," he said.
The SLFA Vice President 2 Mr. Allieu Badara Tarawally also joined the Chairman of (BODFA) in welcoming Madam Johansen to the Northern Region. He commends her for her contributions to football development in Sierra Leone and beyond. Mr. Tarawally promised that they will continue to be united."I want to assure you that we are still that formidable force in the region," he assured her.
Madam Johansen commends the people of Bombali District and the Northern Region as a whole for their 'stern support' during her tenure as SLFA President, and noted that she's a citizen of the North."I'm a child of the soil, I'm part of you," she noted.Speaking to the kids, Madam Johansen inspired the young boys and girls to success in their footballing career, and promised to support them."On behalf of SLFA, CAF and FIFA, we will raise your game in and out of the pitch. We will provide you with the necessary support," she stated.
Climaxing the event, a friendly match was held between Raising Queens vs Mena Queens in honour of Madam Johansen, which ended 1-0 in favour of Mena Queens at the Wusum Field in Makeni.