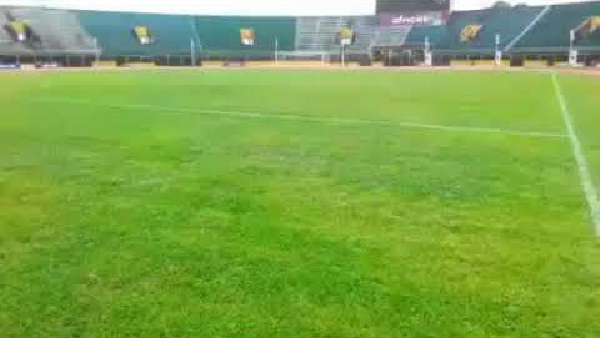 Siaka Stevens Stadiums Takes New Look After Renovation
The Siaka Stevens Stadium Manager, Paul Dabulay has said the National Stadium grass is comparable to any European stadium pitch after months of hard works.
Sierra Leone National Stadium known to be the Siaka Stevens Stadium is the country biggest stadium with 45,000 capacities opened since 1980.
On February 27, 2021, the Confederation of Africa Football (CAF) banned the country's National Stadium due to its deplorable condition from the poor pitch to the lack of facilities although overturned in a short period the fact of the matter remains visible and true on the ground.
The government, through the Ministry of Sports and the National Sports Authority (NSA), with the Sierra Leone Football Association (SLFA) made some moves to fix the long ambitions dream of many especially so when the current dispensation has shown some commitment to sports.
However, a report broke out in the country in March this year, stated that the Government of Sierra Leone has contracted the Chinese for a $40 million rehabilitation in the stadium to start April 2021.
Video below is showing the current condition/state of the Sierra Leone national stadium after months of renovation in the main bowl pitch.