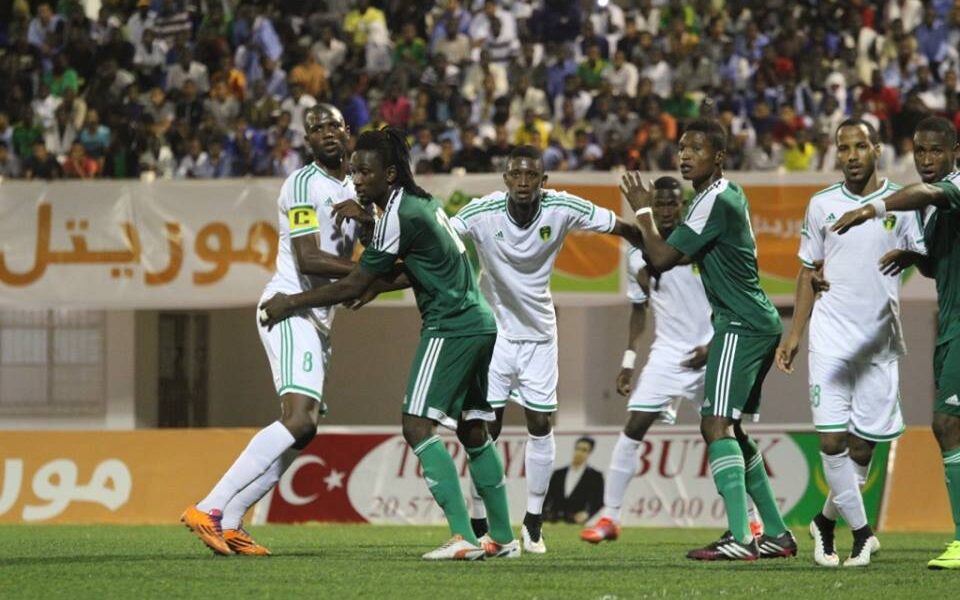 Sierra Leone Crashes Out of Nations Cup as Mauritania Handles Leone Stars Shocking Defeat
Les Mourabitones of Mauritania beat Leone Stars 2-0 to eliminate them from the African Nations Cup Championship (CHAN) 4-1 on aggregate.
Sierra Leone (Pictured in action) had lost the first leg 2-1 last weekend to the Mourabitounes in the competition which is reserved for internationals who play in their own domestic leagues.
Frenchman Corentin Martins's side took a two-goal lead by the 36th-minute mark with goals from Yalli Mohamed Dellahi and Boubacar Beyguily in the 35 ft and 36th minutes respectively.
But the host, who were playing the return of their second leg qualifying round at the Olympic Stadium in Nouakchott, Mauritania due to the Ebola virus which is still affecting Sierra Leone, responded immediately after the break but was ruled out for offside.
Sierra Leone pushes forward as they try to get back into the game, but the visitors who are playing at home nullified all threats from their opponent.
The scoreline remained unchanged until the final whistle.
Mauritania will play next the aggregate winner between Mali and Guinea Bissau.
Sierra Leone Squad: 2 Ibrahim Kamara, 3 Abu Suma, 7 Kwame Quee, 9 Sallieu Tarawallie, Sorie Barrie 10, Kabiru Mansaray 12, Lahai Coker 14, Yeami Dunia 15, Ibrahim Bah 16, Mohamed Bah 18, Badara Kalle Jrn 19
Subs: Ibrahim Tarawallie 1, Abu Kanu 4, Abubakarr Mansaray 8, Omega Toronka 11, Abdul Bangura 13, Saidu Bundu 17, Alfred Nyuma 20
Coach Abdulai Bah
Mauritania Squad: Brahim Souleymane Diallo 1, El Mustapha Diaw 2, Abou Sy 6, Mamadou Niass 7, Baghayogho Moussa (cap) 8, Samba Moussa 11, Oumar Ly 12, Yaccoub Aly Abeid 13, Yali Dellahi Mohamed 14, Taghyoullah Denne 17, Boubacar Beyguili 18.
Coach: Corentin Martins
Subs: Mohamed Wade 3, Mohamed Abdellahi Soudani 4, Cheikhna Varajou 5, Abderrahmane Sy 9, Mohamed Yakoub Ba 10, Yahya Mohamed Abdallahi 15, Mohamed Salahdine Saleck

Coach: Corentine Martins