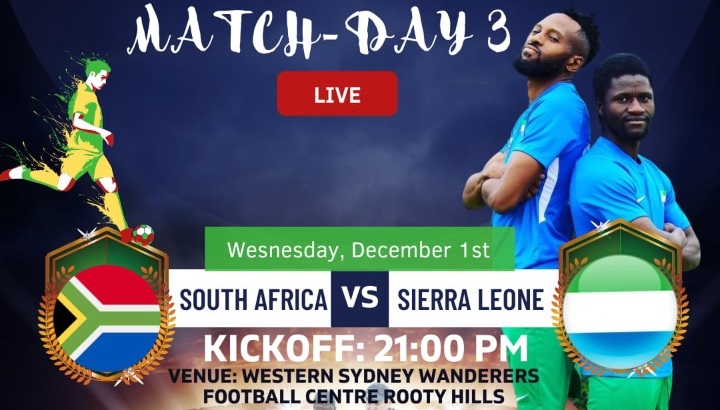 Sierra Leone Set to Clash With South Africa in The 2021 NSW Africa Cup in Sydney
Sierra Leone is set to clash with South Africa in the 2021 NSW Africa Cup on Wednesday 1st December 2021, In Australia Western Sydney Wanderers Football Center.
As the last round of the NSW Africa Cup, group stage matches are scheduled for tomorrow, with spots still up for grabs in the quarterfinals, Sierra Leone will be facing South Africa in their final group C encounter.
According to Mags Tribune Sports, the essence of the tournament is to celebrate African Heritage Sierra Leone and South Africa will be desperate to end with a win, as the Leone Stars of Sydney hope to register a 100% winning record in their first 3 matches, while the Bafana Bafana boys will give all their best to win so that they will secure all three points to qualify for the quarterfinal stage.
The Sierra Leoneans are looking forward to extend their winning streak, as they are currently leading group C with 6 points. A win or a draw on Wednesday evening could see Sierra Leone extend its unbeaten run and qualify for the quarterfinals.
"We will go out there on Wednesday to win the match. We want to win all our matches so that we can maintain our winning record. We respect the South Africa team, but this is football. Our goal is to keep winning",  the captain of the Sierra Leone team captain asserted.
Meanwhile, eight teams will qualify for the quarter-finals with two from each group going through.